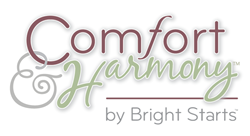 The Mamava Lactation Station eliminates many problems that women may have while trying to breastfeed and travel.
(PRWEB) October 10, 2013
A breastfeeding and pumping station has opened at Burlington International Airport in Vermont, reported CNN (8.29.13). The Mamava, Spanish for "mama goes," offers security, privacy and a clean, peacefully lit space. Traveling mothers can use the nursing kiosk for free. Comfort & Harmony™ supports the expansion of this project, wanting all babies to have the best start possible.
"The Mamava Lactation Station eliminates many problems that women may have while trying to breastfeed and travel," said Alyson Grubard, Director of Brand Management and Licensing at Kids II®, the parenting company of Comfort & Harmony. "Now moms can feed their babies in comfort or even pump and fill bottles after passing through security."
The enclosed area of the Mamava takes up approximately 20 square feet. Inside the pod there is room for luggage and a stroller. Two benches are on either side of a fold-down table. All three pieces have an antimicrobial surface. A power outlet for breast pumps is below the table. A sense of spaciousness is achieved with curved ceiling and recessed lighting.
To make the breastfeeding experience even more comfortable for baby and mom, Comfort & Harmony offers a nursing pillow called the mombo™. The dual sided pillow makes it convenient for travel by offering several usage options. The firm side of the Firm2Soft™ design provides extra support, allowing mom and baby to stay in comfortable positions while nursing. The soft side of the mombo can be used for lounging, tummy time and as a support for a baby who is beginning to sit up. A vibration feature helps soothe the baby whether he or she is playing, eating or lounging.
"Comfort and convenience for babies and moms matter to us, especially when it supports actions that can make a child grow up healthier and smarter," said Grubard.
"We encourage moms to breastfeed because it is beneficial to them too," she added.
The company behind the Lactation Station is hoping to replicate the experience at other airports and in workplaces across the U.S.
About Comfort & Harmony™
The Comfort & Harmony brand is designed to exceed baby's comfort needs while appealing to mom's sense of style. Thoughtfully designed to create a supremely cozy environment for baby in sweet and heartwarming fashions that mom adores, the brand offers nursing pillows, swings, bouncers, shopping cart covers and rockers. Every Comfort & Harmony product incorporates nurturing features, such as ergonomic designs and plush fabrics that pamper mom and baby where it's needed most.
Headquartered in Atlanta, Georgia, Comfort & Harmony is one of the seven brands under Kids II, Inc., manufacturer, designer and marketer of toys and baby gear. Visit http://www.kidsii.com.
About Kids II®, Inc.
Kids II has been inventing and reinventing baby and infant toys and gear for more than 40 years and has quickly become one of the world's fastest growing baby product companies. Headquartered in Atlanta, Kids II spans globally with operations in six continents serving customers in more than 70 countries. Driven by innovation, design and a comprehensive brand portfolio, Kids II is the next generation leader of baby and infant products.
Kids II designs, markets and distributes more than 400 unique baby and infant products, selling more than 22.8 million items per year. On average, it launches 125 new products a year. Under its flagship brands, Kids II has produced more than 100 award-winning products.
The brand portfolio strength runs deep under the Kids II umbrella, which includes its signature brands Bright Starts™, Ingenuity™ and Comfort & Harmony™, as well as licenses to design and manufacture products for Disney Baby™, Baby Einstein™, Oball™ and Taggies™.
Kids II's international affiliate operations are located in Australia, Canada, Europe, China, Hong Kong, Japan, Mexico and South Africa. Visit http://www.kidsii.com.