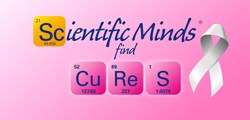 We know that what students experience in the science classroom today affects our future.
Orange, TX (PRWEB) October 10, 2013
During the month of October, Scientific Minds is sending out buttons to recognize teachers who are using the company's K-12 science education products to prepare the researchers of tomorrow.
Because October is National Breast Cancer Awareness Month, the buttons are pink with a white ribbon and read, "Scientific Minds find Cures". The Scientific Minds logo uses the periodic table entry for scandium as the Sc, and "cures" is spelled using the entries for copper (Cu), rhenium (Re), and sulfur (S).
Chelsea Tauzin, lead graphic designer for the company, spearheaded the campaign. "We know that what students experience in the science classroom today affects our future. With the digital science content we've created, our goal is to instill a love of science in students as early as kindergarten. We've created Science Starter lessons with thousands of vivid photos, graphics, and animations that aid K-12 teachers in bringing science to life, and we want to recognize the teachers who are using them. "
With the U.S. lagging behind other industrialized nations in science performance, there is a need for comprehensive science education programs, like Scientific Minds' Science Starters, that are both teacher-friendly and student-friendly. The Science Starters are built from state and national science standards and are engaging and easy-to-use. Tauzin adds, "We are committed to designing products that engage today's students in the knowledge they need to be productive in the future. We have to believe that one of these kids will find a cure."
The company offers a free 7-day trial for each of its Science Starters products at http://www.ScientificMinds.com.
About Scientific Minds, LLC
Scientific Minds, LLC publishes award-winning online resources for K-12 science education. Founded in 2007 by a veteran science teacher, Scientific Minds, LLC provides tools and processes to enhance science instruction and includes strategies to support all students. The company mission is to develop quality, web-based educational products that inspire, encourage, and promote next-generation skills for student success.