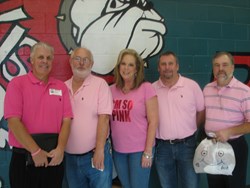 I've never been in a community like this. Everyone knows and supports each other. It is very helpful to our business. We've gotten visibility that we would not have gotten otherwise because of it.
Kilgore, Texas (PRWEB) October 11, 2013
Pak-Sher has had innovative packaging solutions in the bag for the last 40 years at their plant in Kilgore, Texas. According to Paul Gage, president and CEO, the employees are a major part of that success.
And although many people consider workplace loyalty an endangered species, Gage says it is a reality in Kilgore. "The workforce here is very loyal. The seniority and tenure of our average employee is off the map. I've never seen anything like this. People don't leave Pak-Sher," he said. "It's a great culture. It's a good workforce. People want to do what's right and that has helped us a lot."
"Pak-Sher has always been an innovator in the (plastics) industry. That's really how Pak-Sher came to be in food service," said Michele Talucci, marketing director. In particular, she credits their technical vice president with "a brilliant packaging mind. He comes up with all kinds of unique things that solve problems for our customers in the marketplace."
One of those examples is the creation of a 100 percent post-consumer recycled material bakery/deli sheet destined to take the packaging industry by storm. The Envirosheets™ are made from used plastic milk jugs and meet all the FDA guidelines for direct food contact.
"It's the only product of its kind in the world," Gage said. The sheet will allow supermarkets, delis, bakeries and convenience stores to have a green product that will help them achieve their sustainability goals and improve their bottom line.
Launched in May 2013, the Envirosheets™ are already turning heads, garnering Pak-Sher an invitation to this year's Wal-Mart Sustainability Expo, where they were applauded for their "out of the box thinking when it came to finding sustainable solutions," Gage said. "Wal-Mart has significantly advanced the sustainable packaging agenda in this country. They have come up with a sustainability index for their buyers which help guide (their) packaging decisions. One of the key criteria for the index is 'recycled content;' we were very happy to hear that," Gage said.
"This is a platform for future development," he added. "It's all about recycling for us. It's about making products out of recycled materials; that's a big part of our future. We've identified ourselves and we know we're leaders in that whole segment. Big consumer product companies are starting to take note. We're getting a lot of attention because of it."
Talucci also praises Kilgore's positive business environment for encouraging Pak-Sher's continued success. "This is a very unique community in that respect," she said. "I've never been in a place like this. Everybody knows each other and supports each other; and is very helpful to the business. We've gotten visibility that we would not have gotten otherwise because of it."
"When we use the black bags to present our programs, and show we can provide a closed loop to recycling — that's not just staying here. We're taking what this community is doing and sending it outward," Talucci said. "It's been a wonderful partnership and we have definitely benefited."
About KEDC: Kilgore Economic Development Corp. is a leading economic development organization in Texas. Since KEDC's inception in 1990, the industrial tax value in Kilgore has experienced an annualized increase of 38%, outpacing all other categories. The organization is funded by a dedicated local sales tax approved by voters. It is directed by a five-person board and managed by a staff of four with certifications in business retention and expansion, economic and community development and economic development finance. KEDC has won international awards for excellence in economic development.