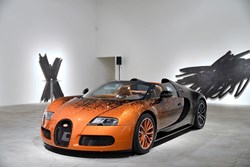 Beverly Hills, CA (PRWEB) October 11, 2013
The Bugatti Veyron Grand Sport is often thought of as a work of art, a kinetic sculpture on four wheels that seamlessly blends the science of engineering with the art of automotive design. This ideal achieves perhaps its most complete expression in the Bugatti Veyron Grand Sport Venet, a rolling canvas produced through a meeting of the minds between Bugatti's designers and famed French artists Bernar Venet. The Bugatti Venet recently arrived in Los Angeles for presentation at the Ace Gallery in partnership with Bugatti Beverly Hills, with VIP clients of the dealership given a first look during an elegant evening reception.
When Venet was approached with the idea of bringing his own artistic sense to the design of a single Veyron, he initially refused seeing no way to improve upon what he viewed as a completed work. However through collaboration with the Atelier Bugatti he developed a concept that brought his own unique aesthetic style to the Veyron while further highlighting the blend of art and science that defines this legendary vehicle.
Venet's work exists as both a function of and reaction to the science of mathematics. Since the 1960's his minimalist works have served as manifestations of his own reflections on math and logic, evolving towards his most recent Indeterminate Lines and Arcs series. It is fitting then that when considering the Bugatti Veyron Grand Sport, Venet was drawn to the math and science that has enabled such an unparalleled work of engineering excellence.
Venet's artistic vision envelops the car both inside and out, with a dynamic mass of the equations required to create the world's fastest car wrapping the front end and seemingly being blown off at speed. Inside the same equation motif is repeated through embroidered door panels. The color palette too is drawn from Venet's work, evoking the aged metal of his most recent public sculptures in dark brown and orange. A panel in the rear interior and special covers for the oil and gas feature Venet's indeterminate lines and serve as the artists' signature on this automotive canvas.
Venet's work is international, with pieces both public and private found in Belgium, America, Japan, Austria, Switzerland, Germany, and New Zealand, and so too has the Bugatti Grand Sport Venet become a global phenomenon. Following its unveiling at Art Basel Miami this unique piece of automotive artwork has since travelled for occasional displays alongside Venet's gallery exhibitions, including its recent presentation by Bugatti Beverly Hills at the Ace Gallery. With such collaborations Bugatti signals the marque's ongoing commitment to the blending of art and science, telling us to expect the production of the world's fastest and most beautiful vehicles for many years to come. For sales inquiries please contact Tim O'Hara at (888) 291-5533.
About Bugatti Beverly Hills
As one of the world's leading purveyors of Bugatti automobiles, the O'Gara Coach Company's Bugatti Beverly Hills offers its clientele exclusive access to a world of unique and thrilling experiences. Paired with a bespoke buying process, access to rare vehicles, and exceptional service, the O'Gara Coach Company provides the ideal gateway to the ultimate luxury automotive lifestyle.