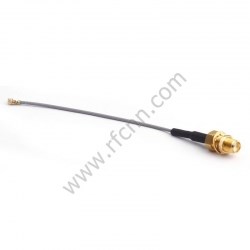 (PRWEB) October 10, 2013
Recently, RFcnn.com, one of the leading SMA cable assembly manufactures based in China, has introduced its top quality SMA cable assemblies, which are provided at discounted prices, up to 25% off. The special offer will end at the end of this month.
A cable assembly is also known as a wiring assembly, wiring looms, cable harness or wire harness. It is an assembly of cables or wires that transmit electrical power or signals. The cables are bound together by straps, sleeves, cable ties, cable lacing, electrical tape, conduit, a weave of extruded string, or a combination thereof. It is usually used in automobiles and construction machinery, providing several advantages over loose wires and cables. SMA cable assembly is a kind of cable harness with high speed and high performance.
"Nowadays, the internet connects people around the world. It has become an important tool for customers to get information about our company and products. Our special offer translates into hundreds of dollars much less than the listed prices of other suppliers," the CEO of the company says.
"We apply a totally automated production process to ensure the top quality products. And, we employ a skilled production team to carefully operate and maintained the assembly machines for SMA cable assembly," he adds, "This promotion is operationally compelling for many customers who want buy cable assemblies and connectors online."
About RFcnn.com
RFcnn.com belongs to Zhenjiang Fourstar Electronics Co. LTD, which is a China based company that aims to provide customers high quality RF connectors at the lowest possible prices. A large proportion of RFcnn.com's customers will come back soon after their first deals.
More details at:
http://www.rfcnn.com/SMA-Female-TO-U-FL-Cable-Assembly-Jumper-105.html