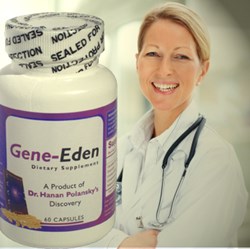 Because studies are showing that even healthy individuals can end up with vision problems because of CMV, all infected individuals should help the immune system target the latent virus before it reactivates. – Mike Evans, polyDNA
Rochester, NY (PRWEB) October 11, 2013
Cytomegalovirus retinitis (CMV retinitis) is a serious viral eye infection of the retina, the light-sensing nerve layer that lines the back of the eye. It is most often found in people with compromised immune systems. However, a study published on March 1, 2013 in the journal Clinical Ophthalmology shows that this condition can also cause eye problems in healthy individuals (2).
According to Geteyesmart.org, "CMV retinitis is caused by the cytomegalovirus, one of the herpes viruses that infects the majority of adults…the virus can reactivate and spread to the retina through the bloodstream, leading to vision-threatening eye problems (3)."
"CMV retinitis symptoms can begin with a slow onset of floaters (small specks or clouds moving in your field of vision) with blurred vision over a few days. Often these symptoms progress to loss of peripheral (side) vision. Sometimes the symptoms begin in the center of vision with a blind spot that can progress to loss of central vision. The symptoms usually occur first in one eye but often progress to the other eye. Without treatment or improvement in the immune system, CMV retinitis destroys the retina, the light-sensitive tissue lining the back of the eye, and damages the optic nerve, which results in blindness. People with CMV retinitis will often develop a detached retina (a very serious problem that almost always causes blindness unless it is treated) (3)."
Medscape.com says that, "Multiple antiviral agents, delivered locally, systemically, or in combination, are currently in use to delay or arrest the progress of the disease (4)."
"Because studies are showing that even healthy individuals can end up with vision problems because of CMV, all infected individuals should help the immune system target the latent virus before it reactivates." – Mike Evans, polyDNA
In a post marketing clinical study published on August 12, 2013 in the medical journal Pharmacology & Pharmacy in a special edition on Advances in Antiviral Drugs, researchers showed that Gene-Eden-VIR is safe and effective. (5)
Study authors wrote that, "individuals infected with HCMV reported a safe decrease in their symptoms following treatment with Gene-Eden-VIR (5)." The study authors also wrote that "We observed a statistically significant decrease in the severity, duration, and frequency of symptoms (5)."
Each ingredient of Gene-Eden-VIR was chosen through a scientific approach. Scientists scanned thousands of scientific and medical papers published in various medical and scientific journals around the world to identify the safest, most effective natural ingredients that target the latent form of herpes. (4)
To learn more about Gene-Eden-VIR and herpes, visit http://www.gene-eden-kill-virus.com/Herpes-Remedy.php. All orders of Gene-Eden-VIR are completely confidential, and no information is shared or sold to any third party. Privacy is assured.
Reference:
(1) http://www.ncbi.nlm.nih.gov/pubmed/23899681
(2) http://www.ncbi.nlm.nih.gov/pmc/articles/PMC3589115/
(3) http://www.geteyesmart.org/eyesmart/diseases/cytomegalovirus-retinitis.cfm
(4) http://emedicine.medscape.com/article/1227228-overview
(5) http://www.scirp.org/journal/PaperInformation.aspx?PaperID=36101
polyDNA is a biotechnology company that develops dietary supplements using the unique scientific method developed by Dr. Hanan Polansky, which is based on Computer Intuition.
In addition to his unique scientific method, Dr. Polansky published the highly acclaimed scientific discovery, called Microcompetition with Foreign DNA. The discovery explains how foreign DNA fragments, and specifically, DNA of latent viruses, cause most major diseases.
polyDNA developed Gene-Eden-VIR , an antiviral natural remedy that helps the immune system kill latent viruses.