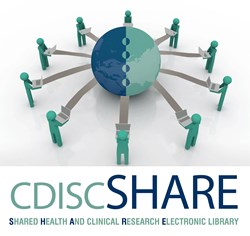 SHARE will provide a reference standard for the industry. It is a sophisticated and powerful tool to automate the process of developing new TA standards.
Austin, TX (PRWEB) October 10, 2013
The Clinical Data Interchange Standards Consortium (CDISC) will prominently feature two of its major initiatives, CDISC SHARE and CFAST, at its flagship event on 4-8 November 2013 in Bethesda, Maryland. Also to be highlighted is the way these initiatives are integrally linked and the way in which they are, in fact, quite synergistic. SHARE will accelerate the development of standards for new Therapeutic Areas (TA) while making all CDISC standards more readily accessible.
The first of these initiatives, the CDISC Shared Health and Clinical Research Electronic Library (SHARE), is a cornerstone of the CDISC technical roadmap, and will be a global electronic repository for developing, integrating and accessing CDISC metadata standards in electronic format. SHARE is expected to dramatically improve integration among CDISC foundational standards and controlled terminologies, and support greater interoperability with healthcare. The second initiative for which there will be major updates at the Interchange is the Coalition for Accelerating Standards and Therapies (CFAST). A joint initiative of CDISC and the Critical Path Institute (C-Path), CFAST was launched to accelerate clinical research and medical product development by facilitating the establishment and maintenance of data standards, tools and methods for conducting research in therapeutic areas important to public health.
While each of these initiatives has individually gained major press and support in the last year for the benefits they are expected to have upon development of new therapies and public health, it is also essential to understand how these two initiatives are intrinsically linked, each enhancing the success of the other. One of the key messages at the 2013 Interchange will be around how CDISC SHARE works to enable the development of TA standards, which is the purpose of the CFAST initiative.
At this time, there are currently 6 published CDISC TA standards and 6 others in progress. As new TA standards are developed, it is critical to re-use common concepts and SHARE supports such re-use. "For example, the therapeutic area of Diabetes is complicated; this widespread disease involves the cardiovascular system, the nervous system and many other aspects of the body. Therefore, a standard must include cardiovascular concepts such as those that are developed as cardiovascular endpoints for cardiovascular disease," said Dr. Rebecca Kush, Chair of the CFAST Scientific Advisory Committee and CDISC President. "Imaging concepts or standards will apply to a number of therapeutic areas such as Alzheimer's Disease and Oncology, and standards for breast cancer will re-use elements CDISC has developed for solid tumors. This is the beauty of having a tool like SHARE, which will expedite the development and accessibility of the common elements for standards, thus improving the quality of research to better understand these diseases and potential new therapies to treat them."
"SHARE will provide a reference standard for the industry," said Sam Hume, CDISC VP of SHARE Technology and Services. "It is a sophisticated and powerful tool to automate the process of developing new TA standards, supporting automated downloads, maintenance and versioning and thus reducing resources that each organization is now using to maintain their own internal standards."
Ultimately, SHARE and CFAST will interact synergistically to realize the vision of improving the quality of medical research to advance therapies for patients and improve public health. For more information on CFAST, SHARE and the CDISC International Interchange, please visit the CDISC website at cdisc.org/interchange.
ABOUT CDISC
CDISC is a 501(c)(3) global non-profit charitable organization, with over 300 supporting member organizations from across the clinical research and healthcare arenas. Through the efforts of volunteers around the globe, CDISC catalyzes productive collaboration to develop industry-wide data standards enabling the harmonization of clinical data and streamlining research processes from protocol through analysis and reporting, including the use of electronic health records to facilitate the collection of high quality research data. The CDISC standards and innovations can significantly decrease the time and cost of medical research and improve quality, thus contributing to the faster development of safer and more effective medical products and a learning healthcare system. The CDISC Vision is to inform patient care and safety through higher quality medical research.