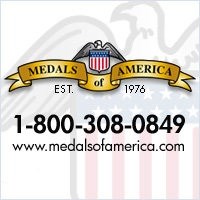 Greenville, SC (PRWEB) October 14, 2013
The clothing and apparel at Medals of America offer a nice variety of professional graphics and slogans as well as the Wounded Warrior Project line exclusive to Under Armour. These include a Wounded Warrior Project Tee with the Freedom Flag and Wounded Warrior Project Believe in Heroes Tee, among others. There are several designs and colors that Veterans and active military alike will appreciate as well as sharp looking polos and exclusive MoA designed clothing lines. Clothing items from Medals of America are a great way to carry the message of military honor and dedication for military personnel and come backed by a lifetime guarantee.
Medals of America also carries a wide range of military jackets, PT gear, belts and footwear and more. Many items can be easily customized with an extensive variety of choices available for all branches of the United States Military. The website is loaded with options for exploring including a very informative blog on the history of United States Military Medals and awards.
About Medals of America
Medals of America is the premier source for military dog tags, Army unit patches, medals, badges, military ribbons, patches, rank, rates and insignia, as well as custom embroidered clothing. We're also proud to offer our exclusive rack builder, military medals builder and custom display case builder.
Veteran owned and operated for more than 36 years! Our mission is simple - we want every Veteran and Service person to display the Medals our grateful Nation awarded them. Anything we can do to have all the great Americans who served their country in the Military Forces display their award will enrich future generations by these symbols of Duty, Honor and Country.
Medals of America
114 Southchase Boulevard
Fountain Inn, SC 29644
800-308-0849