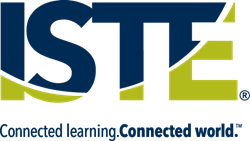 WASHINGTON, D.C. (PRWEB) October 10, 2013
The International Society for Technology in Education (ISTE®) today announced the appointment of Wendy Drexler, Ph.D., as chief innovation officer. Drexler brings more than two decades of experience in educational technology across the K-20 spectrum to her new position as the division leader responsible for the ISTE Standards, professional development services, and the association's thought leadership teams, including research and evaluation.
"Wendy has been an ambassador for the effective integration of educational technology throughout her entire career. Her views about technology as a catalyst for connecting and empowering students and teachers to transform learning echo ISTE's vision and mission," said CEO Brian Lewis. "Her wide-ranging experience, knowledge and dedication make her an excellent choice for advancing our innovation efforts. I'm thrilled to have Wendy join our team."
In her most recent role as director of online development at Brown University, Drexler championed the school's first online and blended courses. She also launched Exploring Engineering, one of the first massively open online courses (MOOCs) targeted at high school students. Previously, Drexler coordinated the research effort associated with the Title II Enhancing Education through Technology (EETT) grant across 23 Florida school districts. She also brings corporate experience to the chief innovation officer position at ISTE, including developing a proprietary learning management system and early web-based training programs for Global Network Sales at IBM and AT&T.
"It's exciting to join ISTE at this transformational time in both the history of the association and the world of education," said Drexler. "I look forward to collaborating with educators around the globe as we continue to build awareness of the ways that technology used effectively builds a connected learning community and supports student achievement at the highest level."
A former elementary, middle and high school teacher, Drexler holds a Ph.D. in educational technology and an Ed.S. in curriculum and instruction, educational technology, from the University of Florida; and a master of arts in secondary social studies education from the University of South Florida in Tampa. Her doctoral research focused on student use of Web 2.0 tools to construct personal learning environments.
About ISTE
The International Society for Technology in Education (ISTE®) is the premier membership association for educators and education leaders committed to empowering connected learners in a connected world. Home to ISTE's conference and expo and the widely adopted ISTE Standards for learning, teaching and leading in the digital age, the association represents more than 100,000 professionals worldwide. For more information, visit iste.org. Follow ISTE on Twitter @ISTEConnects.