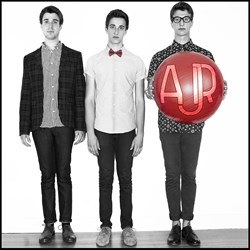 New York, NY (PRWEB) October 15, 2013
AJR has been causing quite a storm over the past month with the release of their debut single and lyric video, "I'm Ready", gaining attention from Billboard Magazine and Ryan Seacrest among others. The band just released the official music video for "I'm Ready" on VEVO.
The three brothers of AJR – Adam (bass/vocals), Ryan (guitar/piano/vocals), and Jack (vocals/guitar) – take a collaborative approach to making music that spans their writing, vocals, and instrumentation. All of AJR's songs have been self produced and recorded in their own living room, and the band is consistently inspired by the creativity and individuality that surrounds them by living and growing up in New York City.
Most recently, AJR performed and attracted a slew of new fans when they played for 10,000 people with superstar Demi Lovato, and was direct support for Hoodie Allen and Alex Goot. AJR is set to kick off their fall tour this month which includes an east coast run with the girls of Fifth Harmony, multiple shows at the CMJ music festival, and the pre-game show for the Dallas Cowboys on Thanksgiving. For all tour dates, please check out AJR's official Facebook page.
With SiriusXM as an early supporter of the band, pushing the single to the heaviest rotation on 20 on 20, Clear Channel Radio is now on board and has selected AJR's "I'm Ready" for their Digital Artist Integration Program. "I'm Ready" will run in it's entirety 3-5 times per day across all CHR/Rhythmic CHR digital streams online, helping to build impressions and artist familiarity, while also being added to the iHeartRadio New Music Channel for streaming the entire month of October.
AJR developed their performance style by performing at a variety of festivals and theaters spanning the likes of Lincoln Center and the LA County Fair. In addition to their music, the brothers have also appeared in films, television, commercials, theater, and print advertisements.