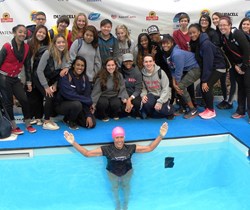 Meeting Diana Nyad as she pushed beyond physical limits to impact her community reinforced everything I am trying to teach.
Houston, TX (PRWEB) October 10, 2013
Paula Russo's students at Gaynor McCown Expeditionary Learning School in Staten Island, NY, are spending this week studying about adventure and endurance athletes – Felix Baumgartner's stratosphere jump, Christopher McCandless' trek "Into the Wild," and Diana Nyad's swim from Cuba to Florida. When Russo heard that Nyad planned a 48-hour "swimathon" one borough away to raise funds and awareness for Hurricane Sandy victims, the class promptly dismissed and headed to Herald Square for some real-time research.
"This week-long adventure intensive reflects the values of Outward Bound upon which our school is founded and my Fund for Teachers' fellowship on the Salmon River last summer," explained Russo. "My fellowship afforded me the opportunity to step outside of my comfort zone and remember what it's like to be challenged by something new, scary and unknown. Nyad epitomizes this spirit and when I heard about her campaign so close to us, we quickly gathered money students raised for Sandy victims and jumped on the subway to Manhattan."
Their day in New York City included a survival training session at REI and a rock climbing course at Outward Bound's national headquarters. Then, the group of 25 high school juniors and seniors turned toward Herald Square and the subject of their research.
Nyad paused between laps for a greeting and photo with students. "I'm so inspired by you and your story and proud to be here today," one student remarked. "I'm lazy, I'll admit it, and you've inspired me to want to do more, to try more."
Russo's inspiration for the adventure intensive emanated from her two-week, 73-mile rafting journey on the Lower Salmon River in Idaho last summer – an experience made possible with a Fund for Teachers grant. (Fund for Teachers supports preK-12 educators' pursuit of knowledge, experiences and skills to advance student achievement.) Russo designed this particular fellowship to model the importance of risk, challenge and discovery.
"Adventures, whether physical, intellectual or artistic, serve to foster community building while providing opportunities for leadership development and teamwork. Too often, these are skills that we expect our students to develop in isolation or organically; however, it's through adventure experiences that students have the opportunity, within and beyond school curricula, to step take risks in a safe environment and discover just how much they're capable of," said Russo.
The remainder of the intensive includes hikes in the Staten Island Greenbelt, biking around the borough and the facilitation of a team building adventure course for 135 freshmen.
"I returned from my Fund for Teachers fellowship revitalized and determined to create similar experiences for my students and identify role models exemplifying the "grit" they'll need to succeed in school and life," continued Russo. "Meeting Diana Nyad as she pushed beyond physical limits to impact her community reinforced everything I am trying to teach."
Teachers interested in applying for 2014 Fund for Teachers grants may apply online at http://www.fundforteachers.org. Applications are due no later than January 30, 2014.
Fund for Teachers is a national nonprofit enriching the personal and professional growth of teachers by supporting their pursuit of learning experiences that impact their practice, students and school communities.