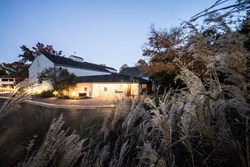 Vienna, VA (PRWEB) October 10, 2013
Sam Bush
Thursday, October 24, 2013
$35-$40
Often called the "King of Newgrass," Sam Bush is distinguished for his artful mandolin skills and Grammy-winning fusion of bluegrass and rock. Once a child prodigy on the fiddle, he grew to become one of the originators of the newgrass genre–an offshoot of bluegrass that combines jazz, rock, and reggae influences, as well as jam band-style improvisations. Bush has won three Grammy Awards for his collaborative efforts and won the Lifetime Achievement Award for Instrumentalist from the Americana Music Association in 2009. His most recent album, Circles Around Me (2009), peaked at No. 3 on the Billboard bluegrass music chart and was praised as "an excellent collection of material from a practitioner at the top of his game" (PopMatters.com).
Video: Sam Bush – "Circles Around Me" (Live)
Jesse Winchester
Friday, October 25, 2013 at 8 pm
$25-$30
Gifted with a vocal instrument that Rolling Stone called the greatest voice of the 1970s, Memphis native and classic country star Jesse Winchester has been producing hits for more than four decades, including "Yankee Lady" (1970), "Isn't That So" (1972), and "Say What" (1981). His latest release, Love Filling Station (2009), includes a mixture of original compositions and covers in genres spanning from blues and folk to R&B and country. AllMusic.com praised his album as "beautifully crafted, yet never seems overly calculated, as Winchester and his band blend together as if they have been playing this material for years."
Video: Jesse Winchester – "Mississippi You Are On My Mind" (Live)
Magpie 40th Anniversary
Saturday, October 26, 2013 at 7:30 pm
$20-$22
Through compelling songs that touch on romance, the environment, and the working class, eclectic folk duo Terry Leonino and Greg Artzner continue to find ways to combine Leonino's beautifully subtle voice—able to replicate anything from jazz to blues to folk—with Artzner's versatile array of instruments and vocal harmonies. In 1998 Magpie won the Wammie Award for Traditional Folk Duo of the Year from the Washington Area Music Association. Their recent release, The Civil War: Songs & Stories Untold (2012), consists of battle songs as well as contemporary takes on the effects of war. This Fall they are also releasing a special album that celebrates their 40th anniversary.
Video: Magpie – "When I'm Gone" (Live)
Tickets can be purchased by calling 1.877.WOLFTRAP; or online at wolftrap.org.
For more information, call The Barns at Wolf Trap at 703.938.2404 or our general information line at 703.255.1900.
High-resolution images of the artists listed are available on Wolf Trap's website:
wolftrap.org/Media_and_Newsroom/Photos_for_Publication.aspx.