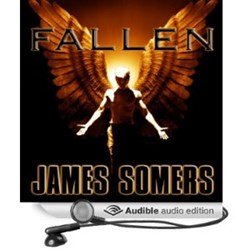 Currently ranked #5 (out of +1,700) in Christian Fantasy
(PRWEB) October 15, 2013
SciFi Publishing is pleased to announce the release of its newest scifi audiobook, "Fallen (Descendants Saga (Book 1))" Fallen is, written by bestselling Christian Fantasy author James Somers, and is now available for sale on Amazon, Audible and Itunes. http://amzn.to/GM6Ymq
About Fallen
A heavenly war rages among the Fallen that threatens to tear Victorian era England asunder. As the Descendants of these angelic warriors take sides in the escalating conflict, Brody West arrives with his father from America, only to find that his role in this firestorm is far greater than he ever could have imagined!
The Descendants Saga answers where the creatures of mankind's myths and legends really came from...and their plans to subjugate humanity and dominate the world!
Fallen (Descendants Saga (Book 1)) is currently ranked #5 (out of +1,700) in Christian Fantasy
What People are Saying
5.0 out of 5 stars " Truly Wonderful!"
5.0 out of 5 stars " Captivating
5.0 out of 5 stars "Awesome!"
5.0 out of 5 stars "Loved It!"
5.0 out of 5 stars " Totally Gripping"
5.0 out of 5 stars "Fast and furious
About the Author
James Somers is the author of more than a dozen Sci-fi and Fantasy novels available on Kindle including: The Descendants Saga, The Serpent Kings Saga, Percival Strange, Perdition's Gate, and The Realm Shift Trilogy. Upcoming novels include sequels for The Descendants Saga, A prequel trilogy for Descendants and more!
In addition to writing, James serves as the Pastor of Ozone Baptist Church in Rockwood, Tennessee and also works in Knoxville as a Surgical Technologist. He is married and have five children.
James is always open to questions and comments from readers at http://www.jamessomers.blogspot.com where updates can be found on his novels.
About Sci-Fi Publishing
Sci-Fi Publishing enables authors to bring their work to life, creating powerful audiobooks for Sci-Fi fans. We partner with authors from audiobook production to marketing so they can continue to focus on their passion, creating new and amazing worlds.
For more information about us and to discover other great scifi audiobooks, visit us at either http://www.scifi-publishing.com or http://www.scifi-audiobooks.com.