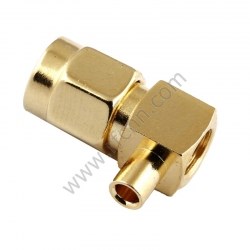 (PRWEB) October 23, 2013
RFcnn.com, the renowned retailer of SMA products, announces its new collection of SMA coax connector and starts a big promotion today. The company intends to keep focusing on providing top quality products to the customers from all over the world.
According to a spokesman of the company, SMA stands for SubMiniature version A and was developed in the late 1960's. What it usually uses is a threaded interface. For test equipment, phase array radar, ILS landing systems and other instrumentation using phase matching techniques, SMA connectors for semi-rigid coaxial cables and the SMA Plug-to-Jack adapter provides a simple and precise means of phase adjustment for microwave devices. All SMA coax connectors are compact in size and own outstanding durability.
"We are proud to offer our customers comprehensive solutions in ways no other company in the industry can. As you know, we are popular as an innovation-based company. We have been specializing in connectors for years. With plenty of experience, we know what customers actually need," the CEO says.
RFcnn.com is a famous SMA coax connector manufacturer and supplier. Each member of the design of the company group is an acknowledged expert in this area. In the current market, customers' requirements for SMA coax connectors are on a large scale, while many of them are too expensive. RFcnn.com aims to provide clients top quality SMA coax connectors at possible lowest prices.
About RFcnn.com
RFcnn.com belongs to Zhenjiang Fourstar Electronics Co. LTD, which is a China based company that aims to offer customers high quality items at the lowest possible prices. A large proportion of RFcnn.com's customers will come back soon after their first deals.
More details about the company's high quality RF connectors can be found at http://www.rfcnn.com/SMA-Male-Crimp-Right-Angle-for-RG405-RF-Connector-129.html.