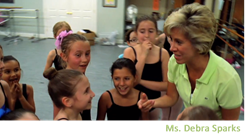 I will do whatever it takes to give my dancers the best foundation for a career in dance.
Newtown, PA (PRWEB) October 15, 2013
It all started in 1983 when Ms. Deb (as her students call her) opened the original Debra Sparks Dance Works located in Philadelphia, PA. Voilà! A new breed of talent was born as Debra Sparks infused her love for dance and creative choreography into these dancers.
Over the years, Ms. Deb rewarded dancers' special merits with dance scholarships and opportunities to perform with professional dancers in some of the best classical ballets.

In 1990, The Leonard Sparks Memorial Scholarship in Dance was formed.
In 1991, The Philadelphia Children's Ballet Academy (PCBA) was established.
Ms. Deb ran the PCBA, a non-profit organization that survived exclusively on fundraising efforts. This pre-professional venue's mission was to reward talented young dancers, both male and female up to the age of 20, by allowing them to train and perform—free of charge—with professional leading dancers in a variety of shows throughout the year.
As time progressed, Debra Sparks felt that her dancers would be better served if she opened up a studio in Bucks County and, in 1998, The Debra Sparks Dance Works was created in Newtown, PA.
To bring the flavor of PCBA to Bucks County, in 2005, Ms. Deb established The Bucks County Dance Company, a pre-professional dance company offering scholarships to select, talented dancers in Bucks County, PA.
As with Deb's other dance school, the Newtown studio also offered scholarships to reward talent and encourage growth. In 2011, Debra Sparks established the Phyllis Sparks Memorial Scholarship (in conjunction with the Leonard Sparks Scholarship) in Dance.
For 30 solid years Ms. Debra Sparks has been enlightening dancers with her captivating choreography and nurturing guidance. Celebrations are ongoing at the studio for the rest of the year. Please contact us to visit the studio or audit a class.
About the Studio
When it comes to the best Bucks County dance studio instruction, there's no better mentor than Ms. Debra Sparks. She raises the "barre" with her high standards and nurturing approach to produce the finest of dancers.
Learn More
Throughout the year, Debra Sparks Dance Works hosts a variety of events, including Master classes with guest choreographers from New York, Philadelphia, and Los Angeles. Check out the DSDW dance school video.
Debra Sparks Dance Works offers year-round dance classes, focusing on classical ballet as the primary foundation of training. Classes offered for students of all ages, including dance classes for toddlers (age 2+) to adult:
Acro
Ballet—Classical
Ballet—Contemporary
Ballet—Pointe
Dance Classes for Toddlers
Glee Club
Hip Hop
Jazz
Jazz—Competitive
Jazz—Funk
Jump & Turn
Lyrical
Modern
Musical Theatre
Pilates
Tap
Zumba
For more information about Debra Sparks, the DSDW studio, Master classes, Newtown, Bucks County dance classes, the area's best ballet and dance training, dance classes for toddlers, or for answers to general questions, please call the studio at (215) 579-5678.
Or visit the company's website.
Press release writing by WebSiteText | SEO copywriting by Web Copywriters | Proofreading by The Proofreaders