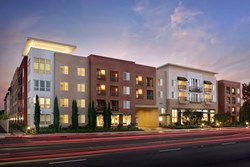 Park Landing is an exceptional public/private achievement that we believe will pioneer a new generation of sustainable, multifamily development in urban areas by use of a green roof and provide a substantial boost to the local workforce housing market.
Buena Park, CA (PRWEB) October 15, 2013
Jamboree Housing Corporation, one of California's leading community development organizations specializing in affordable housing, announced today the grand opening of Park Landing Apartment Homes, a pioneering multifamily property in Buena Park, CA, that features a 20,000 square-foot green roof over the 142-space parking area that serves the urban project. Program participants include State Senator Lou Correa and Buena Park Mayor Beth Swift. Interview and photo opportunities are available.
Located on a long-abandoned commercial site adjacent to a residential neighborhood, Park Landing consists of 70 rental apartment homes for working families who earn between 30% and 60% of the county's area median income. The $22-million multifamily, four-story property was developed on a highly constrained, two-acre urban infill site at 8850 La Palma Avenue.
"Park Landing is an exceptional public/private achievement that we believe will pioneer a new generation of sustainable, multifamily development in urban areas by use of a green roof," said Laura Archuleta, Jamboree president. "In addition, Park Landing will provide a substantial boost to the local workforce housing market."
Park Landing is designed to achieve the LEED for Homes Gold rating, and is one of three Jamboree properties to be LEED certified in the past two years. The LEED (Leadership in Energy and Environmental Design) for Homes green building rating system is the nationally accepted benchmark for the design, construction, and operation of high-performance green buildings.
Archuleta noted that the public/private team effort is also an example of how workforce housing can combine affordability with sustainability. According to Michael Massie, Jamboree Housing Development Director, the green roof made environmental sense given the constraints of the two-acre site and demands for improved sustainability, especially in urban locations. It will reduce the "heat island" effect generated by the asphalt of an open parking area, and will capture, reduce and filter storm water runoff.
Newman Garrison + Partners Architects incorporated the green roof design as part of the firm's pioneering New Block™ (patent pending) concept. The green roof addresses one of today's biggest design issues for a dense urban environment – providing enough open space to meet most cities' infill development requirements, which New Block™ does.
Park Landing residents will benefit from the green roof's outdoor space, which includes a patio, barbeque/picnic areas and basketball court. The play area features Jamboree's and one of Orange County's first Imagination Playground©, a mobile-based outdoor play system that consists of lightweight, oversized building blocks that do not require fixed equipment. The blocks allow children to reconfigure their play environment and in so doing improve hand-eye coordination and fine motor skills, develop communication and problem solving skills.
Park Landing features six one-bedroom, 41 two-bedroom, and 23 three-bedroom floor plans, each equipped with ENERGY STAR appliances and other sustainable features designed to reduce utility costs for residents. Park Landing's interior design also introduces upscale elements that make each apartment a comfortable, unique home.
Park Landing received $6.6 million in the city's redevelopment funds. The property received tax credit allocation funding under California's Title 24 energy conservation regulation, exceeding energy efficiency by 21%. Other financing consisted of 9% Low-Income Housing Tax Credits (LIHTC) from the California Tax Credit Allocation Committee purchased for $7.5 million by WNC & Associates, and a $3.25 million construction loan from U. S. Bank. Additional funding sources included the California Department of Housing & Community Development Multifamily Housing Program (MHP) with $4.8 million. Jamboree purchased the land from the Buena Park Redevelopment Agency for $3.6 million.
Located on a major boulevard near shopping, job centers and public services, Park Landing offers resident amenities such as a community center with a fitness room, computer lab, and laundry facilities. It is also adjacent to two major bus lines that provide 185 rides to major work centers in Orange County and downtown Los Angeles. Park Landing is served by the Magnolia School District within 1.5 miles of the property. Three local community colleges are within about 10 miles of the property.
In its commitment to build healthy communities that provide opportunities and resources for residents to enhance their quality of life, Jamboree's Resident Services Group, Housing with Heart, provides free onsite resident services and programs tailored to meet the unique needs of Park Landing's families. These site-specific programs – tailored and led by an onsite community manager – will foster learning, health, and community involvement to enrich their daily living.
The Collaborative West is the landscape architect of Park Landing and SBI Builders is the general contractor. The John Stewart Company provides onsite property management.
About Jamboree
Founded in 1990, Irvine, CA-headquartered Jamboree Housing Corporation is an award-winning, nonprofit community development company that develops, acquires, renovates and manages permanently affordable rental and ownership housing throughout California for working families, seniors and people with special needs. HOMES, Inc. and Housing with HEART are 501(c)(3) organizations and comprise Jamboree's Resident Services Group. A leading nonprofit developer, Jamboree is committed to sustaining excellence with high quality affordable housing that is good for the environment, the economy and local communities. It currently has about $88 million in affordable housing projects in its development pipeline and an asset portfolio with a market value of $1 billion that includes the development of and/or ownership interest in more than 6,900 homes in more than 70 California communities. Currently, Housing with HEART programs and services that foster learning, health and community building are offered at 35 Jamboree communities with designated staff at each location. For more information, go to jamboreehousing.com.