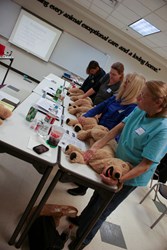 We have our pet sitters trained in pet first aid/CPR protocols because the health and safety of our clients' pets is our number one priority. - Joette White, President, Park Cities Pet Sitter
Dallas, TX (PRWEB) October 14, 2013
Park Cities Pet Sitter President, Joette White, believes having the best trained sitters possible is the key to her business' success and longevity. Part of this training includes having her pet sitters trained in pet first aid and CPR. Ms. White's newest pet sitters will undergo Pet Tech First Aid/CPR training on November 10th to receive certification on the latest pet first aid and CPR protocols. The certification class will cover things like pet restraining and muzzling, choking management, fracture/bleeding protocols, care for heatstroke and frostbite, poisoning, seizures and other emergency management techniques.
Ms. White says that having her pet sitters certified in pet first aid and CPR helps set Park Cities Pet Sitter apart from other pet sitting companies, and gives her clients additional peace of mind. "Park Cities Pet Sitter clients really treat their pets like family members; and while no one likes to think about potential emergencies, they do occasionally happen. This is why we have our pet sitters trained in pet first aid/CPR protocols, because the health and safety of our clients' pets is our number one priority."
The Pet Tech First Aid/CPR training will be given by Pet Tech Master Trainer, Arden Moore. Ms. Moore is a unique instructor in that she brings her own household pets, dog Chipper and cat Zeki, as live test subjects for the training. In addition to her Pet Tech Master Trainer status, Ms. Moore is a pet behavior consultant, best-selling author of 24 pet books, and the host of the No. 1 pet podcast: the Oh Behave Show on PetLifeRadio.com.
Though the November 10th training class is for Park Cities Pet Sitter employees only, Ms. Moore is also offering two additional pet first aid/CPR training classes that are open to the public. The first is on Sunday, November 3rd from 9:30am-2:30pm at the Sheraton DFW Airport Hotel, located at 4440 W. John Carpenter Freeway in Irving, TX. The second open-to-the-public class will be offered on Monday, November 11th from 9am-3:30pm at the SPCA of Texas, located at 2400 Lone Star Drive in Dallas, TX. The fee to join either training class is $99, and that covers all course materials and an official two-year certification.
Pre-registration and payment is required to secure a spot in either the November 3rd or November 11th class. To sign up for either class, go to http://www.petfirstaid4u.com/schedule, and click on the PayPal BUY NOW button for the preferred class date.
Park Cities Pet Sitter, Inc. has served the Dallas area 7 days a week, 365 days a year since 1992. Pet sitting, daily dog walks, pet taxis, overnight sitting, pet supply shopping, litter box cleaning and dog training are all services PCPSI offers. Park Cities Pet Sitter, Inc. is bonded and insured, and all sitters are employees--not independent contractors. A manager is on-call 24 hours a day to handle any emergencies. Additional information about Park Cities Pet Sitter can be found on their website at http://www.pcpsi.com.
ARDEN MOORE -- Founder of Four Legged Life.com and creator of National Dog Party Day, Arden Moore is known as The Pawsitive Coach™. She is an animal behavior consultant, best-selling author, professional speaker, media consultant and certified pet first aid master instructor. She has authored 24 pet books. Each week, she hosts A-list celebrities and top pet newsmakers on her Oh Behave! Show on Pet Life Radio.com, drawing more than 800,000 loyal listeners. She shares her Oceanside, Calif. home with rescue dogs, Chipper and Cleo, cats, Murphy and Zeki and an overworked vacuum cleaner. To learn more, please visit http://www.fourleggedlife.com.