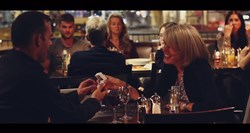 Seeing his face when you helped me produce the ring was priceless. Couldn't think of a nicer person to have as part of that everlasting memory... The biggest thank you to the nicest man. Will never be forgotten…
London, England (PRWEB UK) 15 October 2013
Popping the question may be nerve-wracking enough but when bride to be Gillian Douse wanted to pop the question she came up with a novel idea. Gillian got in touch with top magician Tom London enquiring about performing at her boyfriend's birthday dinner at a local restaurant in Eastbourne, East Sussex. However, Gillian had a secret at heart, she needed Tom's help to create an evening her boyfriend would never forget. Gillian wanted to reveal her proposal in a way that was both memorable and in light of their combined love for magic.
After weeks of preparation and numerous emails between Gillian and Tom, the local restaurant was decided and the time set for 8PM. "After talking with Gillian, we came up with the perfect routine that would leave Bernie speechless," said London. Tom began by mingling around the restaurant and performing for other diners. "This was to give the illusion that I was the resident magician and in no way linked to Bernie's birthday celebration," said the magician in London. Gillian had timed the evening so that desert had been finished by the time Tom was ready to perform at their table. He then began exhibiting a few close-up magic tricks, putting on a small show to continue the illusion. After baffling the two with card tricks and changing a borrowed £20 note into a £50 note, he soon arrived at the highlight of his performance.
Bernie already wore a ring on his ring finger, giving Tom the perfect starting point for his magic trick. He borrowed this ring, making it vanish out of sight with his hands empty and sleeves rolled up. He then pointed to Gillian's pocket, suggesting the ring was inside and with Bernie looking on with amazement, she pulled out a small white box. Slowly opening the box, she reveals an engagement ring whilst asking Bernie, "Will you marry me?" In utter shock, Bernie realises what had happened, smiling profusely and quickly leans in for a romantic kiss.
Tom said, "When I originally read the enquiry I had an instant flush of anxiety. I had never performed under such pressure and just thinking about it made me nervous. Something I don't usually deal with after 6 years of performing."
Bernie and Gillian soon came over to thank Tom for his performance and discuss the surprise. "It was wonderful, Gillian acted it out so well, Bernie really had no idea," said Tom. More tricks followed, with the London magician performing a sleight of hand routine before leaving the newly engaged couple.
About Tom London
Tom London is one of the most demanded close-up magicians in London. Performing at corporate events, weddings and private parties, Tom has extensive experience in his sleight of hand and misdirection. Having traveled the world from Los Angeles to Paris, he has performed for celebrities and corporations of the highest prestige (magiciantomlondon.com).
Tom is often found in London performing as a close-up magician, picking pockets and multiplying money. If you are looking for magician hire in London or wish to hear about Toms upcoming shows check out his website.