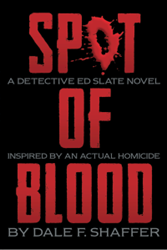 Author Dale F. Shaffer's depth of police experience brings authenticity to his writing.
Chicago (PRWEB) October 17, 2013
Lieutenant Ed Slate heads the new Major Crimes Section in Chicago PD and is happily married with two children. Slate and his partner, Joe Barona, catch a case at Northwestern University where a female medical student has gone missing, leaving only a spot of blood as a clue to her disappearance. This is the type of case that fuels Slate's passion for justice, notes this new thriller. Three suspects are developed: a janitor who is convicted sex offender, a recent law school graduate who dated the missing female as an undergraduate and a fellow medical student who has dated the missing woman.
The case gets even more complex when one suspect, after being interviewed, turns up in Bangkok. Then, another suspect turns up dead. As the investigation deepens, Slate's home life is threatened when he is stalked by someone with a grudge.
Author Dale F. Shaffer's depth of police experience brings authenticity to his writing. He served as an Ohio state trooper and chief of police in Ohio and Illinois, earned a degree in police administration and graduated from the FBI National Academy.
Kirkus Indie of Kirkus Media, a national review service, has this to say about "Spot of Blood":
Shaffer sketches the wide-ranging investigation in exacting detail, right down to the paperwork, and paints a true-to-life picture of what law enforcement really entails: days that start with coffee and a Danish; pressure from higher-ups to balance hot cases with less interesting ones; stretches of unfruitful legwork punctuated by violence; and commiseration with colleagues about when to retire. … A fine Chicago procedural that proves its worth in day-to-day grit.
Available at http://www.DALESHAFFERBOOKS.com. Ingram, Amazon.com, Barnes & Noble and fine bookstores everywhere.
"Spot of Blood"
Dale F. Shaffer
Dog Ear Publishing
Paperback ISBN: 978-1- 4575-1907-9 308 pages $16.95 US
Hardcover ISBN: 978-1- 4575-2182-9 308 pages $32.00 US
Ebook ISBN: 978-1- 4575-2201-7 308 pages $5.99 US