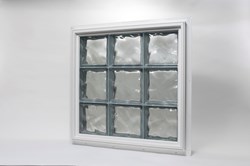 "With LightWise® Low E Glass Block vinyl windows, you don't have to sacrifice design and beauty for energy efficiency."
Pittsburgh, PA (PRWEB) October 17, 2013
Pittsburgh Corning, a leader in glass block manufacturing, is helping homeowners improve their energy management before the cold winds of winter hit. October is Energy Management is a Family Affair – Improve your Home Month, and Pittsburgh Corning is working to raise awareness around a highly likely perpetrator responsible for high monthly energy bills – windows.
Windows account for a significant portion of heat loss – up to 20% in total, according to Pittsburgh Corning. If a home is not conserving heat a furnace will take more energy and more money to work and regain that comfy temperature families are accustomed to.
"Saving money is one of the driving forces behind replacing windows," says Mary Lynn Bruce, Marketing Manager for Pittsburgh Corning. "Energy efficient glass block windows provide many benefits – they provide light and ensure consistent temperatures reducing your heating and cooling bills. They also improve indoor air quality which is good for both the environment and your budget."
Start reducing your home energy bill with Pittsburgh Corning's energy saving window tips:

Invest in energy efficient windows to save on your home energy costs all year long.
Decorate windows with thicker curtains that act as insulation against the cold.
Re-caulk windows to ensure there are no cracks that could let cold air in and warm air escape.
Maintain an indoor temperature of 68 degrees. For every degree you lower your heat in the 60-70 degree range, you'll save 5% on heating costs, according to the California Energy Commission.
"Windows are important elements in your home. They let in light while protecting your home from Mother Nature. With our LightWise® Low E Energy Efficient glass block vinyl windows, you don't have to sacrifice design and beauty for energy efficiency."
By installing Energy Star qualified windows, homeowners can save up to 20% on their energy bills compared to non-qualified products. Homeowners can also qualify for a 10% tax credit for any ENERGY STAR qualified window replacement or installation in a house.
For more information on LightWise Residential Windows visit http://pittsburghcorning.com/products/lightwise-residential-systems.aspx.
About Pittsburgh Corning Corporation
Pittsburgh Corning is the leading manufacturer of premium glass block products and specialized architectural window systems for commercial, institutional, government and residential buildings. Glass block products are extraordinarily versatile, providing design options and daylighting while keeping people and property safe and secure. Since 1937, Pittsburgh Corning has been on the forefront of innovative applied glass technology, designing products that stand the test of time. Headquartered in Pittsburgh, Pennsylvania, Pittsburgh Corning is an equity affiliate of PPG Industries, Inc. and Corning, Inc.