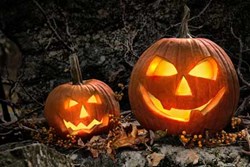 If you're open to it, the energy shift on Halloween is palpable and exciting.
Langhorne, PA (PRWEB) October 17, 2013
For many people, Halloween is all about crazy costumes, jack-o-lanterns and trick-or-treating. Which is just fine, according to the psychics at Hollywood Psychics, the popular psychic service provider, who recently responded to a survey about the meaning and significance of Halloween. But there's also more to it than that. As psychic Charlene put it: "It makes us all feel young and appreciate the child within us, and adds mystery to a mundane life."
Of the 154 psychics who responded to the survey, over 80% agreed with Charlene that participating in Halloween celebrations is a good thing. "Go out, have fun, and dance with as many Ghouls and Zombies as you want to!!!" declared psychic Corinne. "All your spooky senses are heightened, especially the sixth sense!" added psychic Destiny.
Psychic Champagne emphasized, "Halloween is great for the kids." But, she added, "It's not for the 'boogety boogety' adults of the psychic world. That's a bunch of hogwash."
Most of the surveyed psychics disagreed with Champagne about the hogwash. "In my experience, people tend to be more open-minded and to concentrate better on their past and present memories on historically spiritual days," said psychic Cinnamon, echoing the sentiment of over 80% of her colleagues in the survey who recommended getting a psychic reading on Halloween. "This concentration helps me connect with my clients." Cinnamon added.
According to psychic Sally "This is an excellent time for someone to receive a reading as they are in the 'receptive mode' and are leaving themselves wide open for information to come through for them!" Which, as many of the psychics pointed out, is true on any day of the year, not just Halloween. "The only exception is if a person is doing it for the 'creep' or 'scare' factor," said psychic Jane. "I don't think that is ever a reason to get a reading."
****
About Hollywood Psychics:
Hollywood Psychics is an established provider of psychic readings by phone and online chat, appealing to a young professional demographic. Hollywood Psychics experts specialize in astrology, horoscopes, numerology, tarot cards, clairvoyant readings, and many other psychic disciplines. Hollywood Psychics believes in its community of authentic psychics and stands behind the authentic psychic readings they deliver to clients. Visit them online at http://www.hollywoodpsychics.com.
For more information, contact:
Maryanne Fiedler, Marketing Director
maryanne(at)hollywoodpsychics(dot)com
215-953-8568