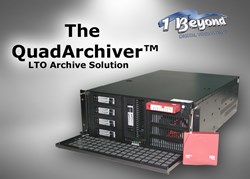 Legacy Tape Archiving workflow improvement up to 87% with Independent Controls.
Boston, MA (PRWEB) October 16, 2013
1 Beyond, Inc., a leader in LTO Archive Systems, presents the 1 Beyond QuadArchiver™, an industry first for legacy tape archiving with workflow efficiency never before available. The QuadArchiver was designed for the organization that has hundreds or even thousands of legacy tapes or disks that need to be converted to LTO tape for a long term archive solution.
The 1 Beyond QuadArchiver features the ability to ingest four SDI inputs simultaneously, each with individual tape deck control, all while recording a hi-resolution and proxy files for each input, saving the operator precious time that would be wasted transcoding the proxy files. While the QuadArchiver is ingesting the tapes, the user has the ability to add metadata to an asset management database to keep files organized for easy access later on. All of these features add up to drastically reduce the amount of man-hours required to convert legacy tapes to LTO tape by as much as 87% and improve the operator's workflow efficiency.
With many film and broadcast professionals experiencing a growth in their data that is well beyond their archive and backup capabilities, they are turning to new solutions for long term data storage. Traditional legacy tapes only hold around 30 to 60 minutes of footage, while external hard drives can become unreliable and expensive as an archive solution. LTO tape can typically hold 50-100 hours of footage on a single tape, and with no moving parts has an estimated shelf life of 30 years. With the Linear Tape File System (LTFS), the operator has direct access to files on the LTO tape, much like accessing files on a hard drive and the guarantee of forward compatibility. The cost of a single LTO tape is roughly USD $40, which is around one third of the cost of a traditional external hard drive and one sixtieth the cost of a traditional Storage Area Network.
The QuadArchiver includes the following features:

Recording and Preservation of Legacy Tapes on Long Life LTO tape in 1/6 the time
One-operator control of several decks simultaneously, and each deck independently
Simultaneous proxy recording, where each video and proxy format is independent
Jog shuttle or intuitive VTR controls to position the tape and mark in and out points
Display area for input video with VCR controls under each video monitor
Record time codes displayed along with a record progress bar
The QuadArchiver is available worldwide from 1 Beyond. For more information please visit: http://www.1beyond.com.
About 1 Beyond
1 Beyond designs and manufactures purpose-built, professional video systems for all aspects of the workflow from production through post and archiving. Its reputation is for innovation, ruggedness, and high reliability at a fraction of the cost of traditional high-end systems. Having achieved sixteen years of industry firsts with its technology, it is a leader in the professional video market. Learn more at http://www.1beyond.com or call 617.591.2200.
Media Contact:
Skye Perry
1 Beyond, Inc.
Sperry(at)1Beyond(dot)com
617.591.2200 x2202
© 2013 1 Beyond, Inc. All rights reserved. 1 Beyond and QuadArchiver are trademarks of 1 Beyond, Inc. Third party trademarks are the property of their respective owners.