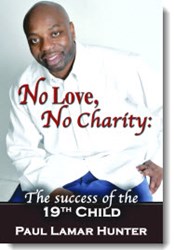 We grew up in a house where there was insufficient food, clothing and money to take care of us all. There were times when my siblings and I not only shared clothes, we also shared toothbrushes.
Nationwide (PRWEB) October 17, 2013
Glendale, Arizona resident Paul Lamar Hunter beat the odds against poor kids being less likely to obtain a college education. He's an over comer! The author is excited to announce the debut of his riveting new book "No Love, No Charity: the Success of the 19th Child," a thrilling autobiographical account that describes how he made it, despite overwhelming odds. As the 19th child of twenty-one (all born within 21 years), his troubled life traversed the perils of poverty, neglect, dysfunction, and even deaths. Hunter describes what it was like growing up in the shadows of a famous, yet detached mother whose affections were focused on the homeless shelter that she founded; and not on her children. Though the shelter was supposed to be a haven for the downtrodden, it was actually the breeding ground for dysfunction and despondency.
WHAT THE AUTHOR OVERCAME:
POVERTY: "We grew up in a house where there was insufficient food, clothing and money to take care of us all. There were times when my siblings and I not only shared clothes, we also shared toothbrushes. We experienced days when we were required to eat homemade biscuits for breakfast, lunch and dinner. We lived in a two-bedroom house until just before the 14th child was born."
NEGLECT: "Our mom neglected us while she spent more time at her homeless shelter than at our home. She instructed older siblings to watch the younger ones while she would do the Lord's will—taking care of the homeless. Her more than frequent absences led to numerous detrimental results for us children, including when my sister Zollena suffered severe burns and my brother Thomas Hunter died in our house fire in 1976."
FAMILIAL DYSFUNCTION: "Our mother provided only negative feedback and ridicule to my siblings and me. She didn't allow us to address her as mother or mom; she preferred we call her "E." She did not advocate education for us, and frequently told us that we would never accomplish anything. Our mom was unloving, short-tempered, inattentive, and unnecessarily controlling. Additionally, most of us children experienced some forms of mental, physical and spiritual abuse at the hands of "E." There was no father to take care of us as he died in a car accident in 1978. I was eight years old."
Despite Hunter's misfortunes, failures, and a lifetime of obstacles, his determined spirit and unshakeable faith lifted him above the fray to become the first in his family to graduate from college. Hunter is proud of his academic accomplishments, but equally as proud of having coached a fifth grade basketball team (The Magic) in a championship game to a comeback win from nine points down. His team took the championship by one point (29-28). Having moved full-speed ahead, Hunter is living proof that neither limits nor lineage determine the quality of one's life. He commented, "Faith, fortitude and determination enable individuals to turn their setbacks into comebacks."
The author and his living siblings (10 sisters, eight brothers) range in age from 40 to 61; residing in Moreno Valley, CA, Racine, WI, Memphis, TN, Atlanta, GA, Pittsburgh, PA and St. Paul, MN. Between them, they have 63 children and 55 grandchildren.
"No Love, No Charity: the Success of the 19th Child" by Paul Lamar Hunter
(Life to Legacy, LLC, paperback, 184 pp, ISBN: 10-0984797343, ISBN: 13-978-0984797349)
WHAT PEOPLE ARE SAYING
This book is a dark revelation about how traumatic growing up can be. Paul's story reiterates the fact that those of us who have loving parents are truly blessed. Despite it all, Paul's story will encourage anyone that he or she can make it despite all the odds. Certainly, it can be done. It should be done. It must be done! -- Kevin Weslaski, Image Management, LLC
"A truly compelling and very interesting book. It holds your attention from beginning to end. A must read!" -- Attorney Thomas W. Durkin - Racine, Wisconsin
"The phrase, "reality is stranger than fiction" certainly applies to this poignant story. However, the darkness does not overtake the light. Truly, an over comer's story. In the end, Paul Hunter prevails." -- Book's Publisher, Life to Legacy, LLC
ABOUT THE AUTHOR
Paul Lamar Hunter was born in Racine, Wisconsin on October 16, 1970. He is the 19th child of 21 natural children born to James Hunter Sr. and Louise Hunter. The proud father of four children graduated from Washington Park High School in 1990. In 2005, he earned an Associate Degree in Supervisory Management from Gateway Technical College. In 2012, at age 42, he became the first in his family to earn a college degree—Bachelor of Science in Business Administration from Upper Iowa University. Unfortunately, like 53% of recent college graduates,1 Hunter is currently without employment.
Paul Hunter is available for speaking engagements and book signings. He can be reached at Paul(at)NoLoveNoCharity(dot)com or visit http://www.NoLoveNoCharity.com | Twitter: @APLH19 Facebook: Author Paul Lamar Hunter | Instagram: AUTHORPAULLAMARHUNTER
Author's video
EDITORS:
To book interviews with the author; obtain high-res images or media review copies, contact:
Toni(at)PRetCetera(dot)com | 209.832.8020/408.499.3664c
MOVIE/TV PRODUCERS, FILM COMPANIES, DOCUMENTARIANS:
Submit story rights inquiries to PR, et Cetera, Inc.: Toni(at)PRetCetera(dot)com | 209.832.8020 or 408.499.3664c