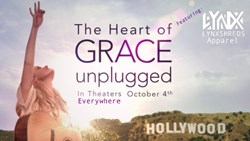 Birmingham, AL (PRWEB) October 16, 2013
A Clothing company from Virginia Beach Virginia called Lynx Shreds sponsors a Hollywood movie coming out in movie theaters that was released all over the country on October 4, 2013 and in still showing. A Lions Gate Production called Grace Unplugged is predicated to be a big hit. The movie features actors such as James Denton from Desperate Housewives, Michael Welch from the movie Twilight. It also features the very prestigious actor Kevin Pollak and singer Taylor Swift. The movie takes place in Birmingham Alabama and in Los Angeles California.
AJ Michalka staring as 18 year old Grace Trey in the Movie Grace Unplugged played an astonishing roll as the main actor. She always wanted to do more than just sing at her church, where her dad—a former pop star—is the worship head leader. With the help of Mossy, her dad's former music manager, Grace records a cover version of Johnny Trey's old Top-10 hit. She then runs away without telling anyone to Los Angeles, and begins to try and follow her dreams as a singer. The more famous she becomes she starts feeling more and more pressure to compromise her Christian values and character. Will everything she experiences lead her to reject her faith … or rediscover it?
This is a must see movie for people of all ages and is very touching for any family to watch together. The movie also features Lynx Shreds Apparel on several people in the film. Lynx Shreds is a fast growing clothing company based of out Virginia Beach Virginia and is proud to be a part of such an awesome film.