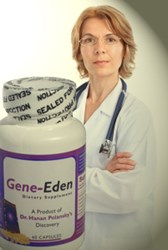 Quercetin is an important ingredient of Gene-Eden-VIR. We believe that a person infected with rhinoviruses or the flu virus or that would like to protect himself against these viruses should consider using Gene-Eden-VIR. - Mike Evans, polyDNA
Rochester, NY (PRWEB) October 17, 2013
Quercetin is a plant pigment (flavonoid). It is found in many plants and foods such as red wine, onions, green tea, apples, berries, and many others. According to many studies, quercetin is an antiviral substance with many health benefits. Specifically, quercetin has been shown to act against the viruses that cause the common cold (1).
"Q7G (quercetin) … inhibited virus replication in the initial stage of virus infection by indirect interaction with virus particles, and ribavirin (a common antiviral drug) had a relative weaker efficacy compared to Q7G. Therefore, these data suggest that Q7G exerted its anti-HRV2 effect (HRV2 is a rhinovirus, the family of viruses that causes common colds) via the inhibition of virus replication in the early stage… (1)."
WebMD notes on its website that "Quercetin is used for treating conditions of the heart and blood vessels including 'hardening of the arteries' (atherosclerosis), high cholesterol, heart disease, and circulation problems. It is also used for diabetes, cataracts, hay fever, peptic ulcer, schizophrenia, inflammation, asthma, gout, viral infections, chronic fatigue syndrome (CFS), preventing cancer, and for treating chronic infections of the prostate. Quercetin is also used to increase endurance and improve athletic performance (2)."
In addition to properties that work against the common cold, quercetin also works against the flu virus according to another study. "Quercetin-3-O-β-D-glucuronide also showed to possess inhibitory activity against influenza A virus (FLUAV) (3)." The study was published in September, 2011 in the medical journal Fitoterapia.
"Quercetin is an important ingredient of Gene-Eden-VIR. We believe that a person infected with rhinoviruses or the flu virus or that would like to protect himself against these viruses should consider using this natural antiviral remedy to help his/her immune system target these viruses while in the latent state." – Mike Evans, polyDNA
Gene-Eden-VIR is a natural, antiviral remedy proven in a clinical study to reduce viral symptoms (3).
A recent post marketing clinical study published in the peer reviewed, medical journal Pharmacology & Pharmacy, in a special edition on Advances in Antiviral Drugs on August 12, 2013 showed that Gene-Eden-VIR is safe and effective (3).
Each ingredient of Gene-Eden-VIR was chosen through a scientific approach. Scientists scanned thousands of scientific and medical papers published in various medical and scientific journals around the world to identify the safest, most effective natural ingredients that target the latent form of herpes (3).
To learn more about Gene-Eden-VIR, visit http://gene-eden-kill-virus.com/Herpes-Remedy.php. All orders of Gene-Eden-VIR are completely confidential, and no information is shared or sold to any third party. Privacy is assured.
Reference:
(1) http://www.ncbi.nlm.nih.gov/pubmed/23566054
(2) http://www.webmd.com/vitamins-supplements/ingredientmono-294-QUERCETIN.aspx?activeIngredientId=294&activeIngredientName=QUERCETIN
(3) http://www.scirp.org/journal/PaperInformation.aspx?PaperID=36101
polyDNA is a biotechnology company that develops dietary supplements using the unique scientific method developed by Dr. Hanan Polansky, which is based on Computer Intuition.
In addition to his unique scientific method, Dr. Polansky published the highly acclaimed scientific discovery, called Microcompetition with Foreign DNA. The discovery explains how foreign DNA fragments, and specifically, DNA of latent viruses, cause most major diseases.
polyDNA developed Gene-Eden-VIR, an antiviral natural remedy that helps the immune system kill latent viruses.