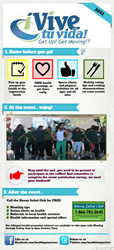 Brownsville, TX (PRWEB) October 16, 2013
On Saturday, October 19, 2013, the Brownsville Community Health Center (BCHC) will present its third annual family health and fitness fair ¡Vive tu vida! Get Up! Get Moving!®. The event promotes Hispanic family physical activity and good nutrition for better health and wellness for people of all ages and all sizes. This event, which is free and open to the public, will be held at Dean Porter Park, 501 E. Ringgold Street, in Brownsville, from 9:00 am to 1:00 pm.
"¡Vive tu vida! Get Up! Get Moving!® helps give us the will to live life to its fullest. Young, old, and in-between can dance, learn a new activity, or walk with family or friends. There are many great ways to get up and get moving for your health. Come join the fun and be energized," said Paula S. Gómez, Executive Director of the BCHC.
¡Vive tu vida! Get Up! Get Moving!® demonstrates the power of culture, family, and community to promote better health for all. The Brownsville event will feature free health information and screenings, including blood pressure, diabetes, kidney disease, vision, and dental. There will also be activities for the whole family including Zumba dancing; an obstacle course; soccer, football, and baseball clinics; and cooking, martial arts, boot camp, and gymnastics demonstrations. Participants will also have the chance to win raffles and giveaways, enjoy healthy snacks, listen to music, and much more!
"The support we receive from Newman's Own Foundation and the Healthy Americas Foundation allows us to serve 20,000 people at community family health events this year, like the one this weekend in Brownsville," said Dr. Jane L. Delgado, President and CEO of the National Alliance for Hispanic Health, the nation's leading Hispanic health advocacy group, and author of The Latina Guide to Health and the Buena Salud® Guide book series.
"We are proud to support the National Alliance for Hispanic Health in providing community-based health and nutrition outreach," said Robert Forrester, president of Newman's Own Foundation. "One of the Foundation's priorities is the support of nonprofits whose focus is on nutrition, and ¡Vive tu vida! Get Up! Get Moving!® works to address a broad range of needs on the local level."
All participants of ¡Vive tu vida! Get Up! Get Moving!® Brownsville will be eligible to register for the National Alliance for Hispanic Health's Buena Salud® Club. This free membership club is designed to promote healthy lifestyles by providing year-round reliable and confidential health information and provider referrals.
About the Brownsville Community Health Center (BCHC)
The BCHC is a non-profit 501(c)3 Federally Qualified Health Center. The principal mission of the Center is to provide quality comprehensive primary health care services with dignity to the residents of Brownsville and the surrounding areas of southern Cameron County. BCHC has served as the medical home for thousands of families since 1972 and is governed by a community-based Board of Directors. In 2012, the Center provided care to 20,326 people and conducted 92,091 medical encounters. BCHC counts on a staff of over 193 full-time employees, 12 physicians, 6 mid-level practitioners and 2 dentists. For more information on BCHC and its programs, please visit http://mybchc.org/ or call (956) 548-7400.
About the National Alliance for Hispanic Health
The Alliance is the nation's foremost science-based source of information and trusted advocate for the health of Hispanics in the United States. The Alliance represents thousands of Hispanic health providers across the nation providing services to more than 15 million each year, making a daily difference in the lives of Hispanic communities and families. For more information, visit http://www.hispanichealth.org or call the Alliance's Su Familia National Hispanic Family Health Helpline at 1-866-783-2645.
About ¡Vive tu vida! Get Up! Get Moving!®
In its seventh year, ¡Vive tu vida! Get Up! Get Moving!® is the premier national family physical activity and healthy lifestyle event series in the nation. These family-oriented events are organized by leading Hispanic community-based organizations and are tailored to the interests and cultures of each community. In 2013, ¡Vive tu vida! Get Up! Get Moving!® events are being held in Albuquerque, NM; Chicago, IL; Dallas, TX; Houston, TX; Kennett Square, PA; Los Angeles, CA; New York, NY; Phoenix, AZ; Brownsville, TX; and, San Diego, CA. The National Alliance for Hispanic Health and the Healthy Americas Foundation present the series, along with its national supporter, Newman's Own Foundation, national media partner, Univision Communication's Salud es vida, and national partners, the Embassy of Mexico, and the United States Tennis Association. For more information call 1-866-783-2645, and visit http://www.getupgetmoving.org or the event's Facebook page at http://www.facebook.com/healthyamericas/events.