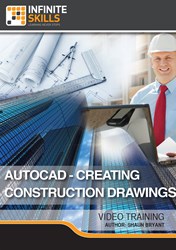 Learn specialized AutoCAD - Creating Construction Drawings training course at your own pace.
(PRWEB) October 16, 2013
Software training firm Infinite Skills Inc. this week released its "AutoCAD - Creating Construction Drawings Tutorial," an intensive, advanced-level course focused on creating professional, polished drafts for use in construction.
Within AutoCAD's vast features for draft and design in a digital environment is an extensive toolset for publishing and plotting drawings for use in a collaborative construction environment.
With its AutoCAD - Creating Construction Drawings, Infinite Skills offers targeted training on finalizing construction drawings, providing users with an in-depth understanding of the details involved in producing construction drawings, and enabling users to access the full range of capabilities for their professional practice.
AutoCAD - Creating Construction Drawings Streaming Video Training
Course author Shaun Bryant is a training consultant with 20 years of hands-on experience as an AutoCAD user in civil and structural engineering practice. He has worked for Autodesk in sales support and training, and is currently an Autodesk Approved Instructor, holding AutoCAD 2013 Certified Professional status. Bryant currently provides AutoCAD training and consultancy professionally.
Bryant begins by introducing the drawing settings, explaining the startup variable and how to work with units, limits, and layers, which form the parameters of construction plot layouts.
From there, the course explores AutoCAD's title blocks, looking at how to work with sheet size, perform title block set-up, and add text, along with advanced topics like working with viewports and saving title blocks as templates.
Other chapters include detailed looks at drawing creation, including working with elevations, sections, and dynamic blocks, along with a chapter on drawing annotations, where Bryant explains details like text styles, labels, applying dimensions, hatching, and more.
The course closes with a look at producing the final product, explaining tools related to plotting, such as color tables and the eTransmit feature, as well as publishing features, like batch plotting, sheet set-up, and plot stamps.
"This course is designed to allow you to develop your drawings to a professional level," Bryant says. "It will aid you in setting up drawings and sets of drawings that you can shape up and ship out to clients or colleagues."
Free demo videos and a full list of course contents can be found on the AutoCAD - Creating Construction Drawings training page of the InfiniteSkills website:
http://www.infiniteskills.com/training/autocad-creating-construction-drawings.html
InfiniteSkills offers its AutoCAD Creating Construction Drawings Training Video either as a DVD or a direct download from the company website at a retail price of $24.95. Though the compatibility of programs varies, all InfiniteSkills titles and formats are compatible with both Mac and Windows operating systems, and shipping is available around the globe. Additionally, InfiniteSkills tutorials are supported by project files which correspond to examples in the videos.
About Infinite Skills Inc.
A leader in the field of software training, Infinite Skills designs its courses on a task-oriented model, teaching complex skills by providing hands-on examples and guiding users as they carry out essential functions. Infinite Skills offers a wide range of software titles available as DVDs, digital downloads, and in iPad editions. Infinite Skills now offers a subscription service, providing access to all its training content for a monthly fee, keeping with company's aim of delivering professional training to customers anywhere they want to learn.