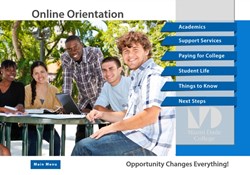 Miami Dade College students felt they were better prepared to start school as a result of completing the online orientation.
Jacksonville, FL (PRWEB) October 17, 2013
A new survey, recently produced by Advantage Design Group, the Jacksonville multi-media firm, evaluated how online orientation helps students with preparedness. 88-95% of Miami Dade College students who participated in the survey answered that they either "agreed" or "strongly agreed" that the orientation was helpful in more ways than one.
While most colleges for many years have taken the most common, traditional approach in orienting new students, Miami Dade, the nation's largest higher educational institution, is now among many to implement this new engaging welcome technique through Advantage Design's orientation software.
Out of 947 students that participated, the results of the survey showed that:

88.39% of students felt that they were better prepared to start at Miami Dade as a result of completing the online orientation.
95.67% of students agreed that the information presented during the online orientation was clear and easy to follow.
94.62% agreed that the information they learned during the online orientation will be useful for future reference during their time at college.
Advantage Design Group's orientation software encapsulates the most useful information in an engaging way. New students cover the basics online before ever arriving at the school, so they can focus more on the educational planning component of their experience once on campus.
The customized software also allows colleges and universities to deliver a consistent message across the board to all students. With engaging scripts, video, and text – all online, the program ensures that each student hears the same message every time.
"We also wanted our online orientation process to be personal to each school, while providing everything essential needed as well," says Joseph Leo of Advantage Design Group. "We found that by telling the school's story through this online orientation, it allows students to acclimate themselves better and begin with a positive, engaging experience that lasts throughout their college years."
The automated process provides integration with the school database of academic records, and personalizes each student's experience. Schools can give students information about prerequisites for course selections, and can lead them to more information on the school's site as needed.
In creating this program, Advantage Design Group wanted to provide more than just orienting students to the campus. The orientation can let the school track progress; track student interests, comprehension, as well as participation – all in real time, at any time with 24/7 access.
About Advantage Design Group
Advantage Design Group is a multi-media design firm based in Jacksonville, Florida with 15 years of experience in developing interactive campus maps, virtual tours, microsites, videos, print, touch screens, college online orientations, and interactive informational presentations for recruiting fairs, direct mail and fundraising. Advantage Design Group is recognized as a top 10 advertising and marketing agency in the Jacksonville Business Journal's 2012-2013 Book of Lists. They have done online orientations and other school related projects for over 100 educational institutions across the country including NYU Steinhardt, Miami Dade College, Palm Beach State College, Embry-Riddle, Rutgers University, Purdue Calumet, the University of Florida, and Auburn.
For samples of online orientation and other school-related multi-media projects visit Student-Orientation.com.
1896 Corporate Square Blvd • Jacksonville, FL • 800.657.1338