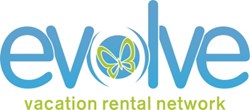 We are excited to have Evolve on board as a marketing and booking services partner.
Denver, CO (PRWEB) October 17, 2013
Evolve Vacation Rental Network, Inc. (http://www.evolvevacationrental.com), a pioneer and leader in online marketing and booking services for vacation rentals, announced today it has partnered with HomeAway, Inc. (NASDAQ: AWAY), the world's leading online marketplace for vacation rentals, to offer its service as part of the new HomeAway® Professional Referral Network.
Evolve's comprehensive service handles every aspect of the advertising and booking process for vacation rental homeowners: creation of high-performing property listings, optimized distribution across the most popular vacation rental sites, including http://www.homeaway.com and http://www.vrbo.com, and personalized traveler support, both online and offline, to create a world-class booking experience.
"For many owners, the logistics and ongoing time commitment of marketing and booking their vacation rental can be intimidating," said Brian Egan, co-founder and CEO of Evolve. "We built Evolve to offer a simple, highly effective way to earn rental income without any effort or guesswork on the owner's part."
Evolve's service is offered risk-free; owners pay only a modest booking fee after reservations are confirmed. Travelers can book through the Evolve Network free of charge.
The partnership was announced in conjunction with the launch of the HomeAway Professional Referral Network, which offers owners access to professional property management services during the sign-up process on HomeAway.com.
"We want to help owners make it as easy as possible to rent their vacation property and reap the financial benefits their under-utilized homes can provide," said Brian Sharples, HomeAway CEO. "We are excited to have Evolve on board as a marketing and booking services partner."
Bob Mylod, Evolve's lead investor, Board member and former Vice Chairman, CFO and Head of Worldwide Planning & Strategy of priceline.com, added, "I expect the HomeAway Professional Referral Network is going to significantly increase the addressable market of vacation rental suppliers and travelers. With this partnership, Evolve is positioned to help HomeAway convert these new market entrants."
About Evolve Vacation Rental Network, Inc.
Evolve Vacation Rental Network, based in Denver, CO, is an online marketing and booking service for vacation rentals. We offer vacation rental owners and managers the easiest, most effective way to generate rental income, while offering travelers the industry's best booking experience. Our team at Evolve is dedicated to eliminating hassle, guesswork and frustration at every turn and making vacation rental easier and more accessible for everyone. Visit http://www.evolvevacationrental.com for more information.
About HomeAway, Inc.
HomeAway, Inc. based in Austin, Texas, the world's leading online marketplace for the vacation rental industry, with sites representing over 775,000 paid listings of vacation rental homes in 171 countries. Through HomeAway, owners and property managers offer an extensive selection of vacation homes that provide travelers with memorable experiences and benefits, including more room to relax and added privacy, for less than the cost of traditional hotel accommodations. The company also makes it easy for vacation rental owners and property managers to advertise their properties and manage bookings online. The HomeAway portfolio includes the leading vacation rental websites HomeAway.com, VRBO.com and VacationRentals.com in the United States; HomeAway.co.uk and OwnersDirect.co.uk in the United Kingdom; HomeAway.de in Germany; Abritel.fr and Homelidays.com in France; HomeAway.es and Toprural.es in Spain; AlugueTemporada.com.br in Brazil; and HomeAway.com.au in Australia. Asia Pacific short-term rental site, travelmob.com, is also owned by HomeAway.
HomeAway also operates BedandBreakfast.com, the most comprehensive global site for finding bed-and-breakfast properties, providing travelers with another source for unique lodging alternatives to chain hotels.