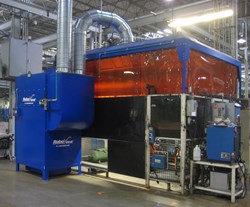 In fact, Volvo Trucks improved its energy efficiency by more than 25% in the first year alone — far ahead of the government's 10-year goal.
(PRWEB) October 18, 2013
Think Volvo and you think quality, safety and durability. It's a brand image they have solidified over many years of building highly-regarded cars and trucks. Their focus on being the best at what they do extends to developing responsible manufacturing practices to safeguard the environment. So when the Federal government announced its Save The Energy Now program, Volvo Trucks North America responded in a huge way. In fact, Volvo Trucks improved its energy efficiency by more than 25% in the first year alone — far ahead of the government's 10-year goal. In doing so, Volvo Trucks became the first company to meet the challenge. What's more, their success has proven to be good not just for business, but for their employees and their community too.
In It for the Long Haul, Volvo Trucks are Making Serious Inroads
Volvo's drive to lower its energy usage and its impact on the environment required a close examination of certain process manufacturing systems. The robotic MIG welding operation was one of those systems. The same welding cells that were designed to maintain Volvo's high level of quality also generate a significant amount of oily smoke and fumes. Like a lot of manufacturers, they relied on traditional hoods and oversized fans to collect, filter and exhaust the air through lengthy runs of ductwork to the outside. Unfortunately this first generation system couldn't keep pace with the new air quality standards or the energy usage goals that Volvo established. To help them meet the President's challenge, Volvo project engineer David Jenks began a search for a better way to collect and filter the contaminants generated by their welding operations.
"The system we had was using giant fans to suck the air from the welding cells and exhaust it outside. It was drawing a lot of make-up air from outside," said Jenks. But the amount of energy it took to collect and move the dirty air, and maintain a comfortable indoor temperature was undermining their efforts to become more energy efficient. A better ventilation system was necessary but it had to meet some unique specifications.
The unusual footprint of the welding cells made the design and installation of the proper system more complicated. Immoveable infrastructure, including water and power lines, was located overhead. As a result, their existing canopies didn't fit or contain the dirty air as well as they should. The solution came from RoboVent's custom canopies that were assembled on-site. "I was a little surprised they did it that way but it turned out to be the best way to make sure the hoods fit correctly. Now they encase the entire cell perfectly," according to Jenks.
In addition to the new hoods, a Fusion 3 collector was specified because it collects, filters and returns clean air back to the plant instead of exhausting it outdoors. This system has helped Volvo to reach its energy conservation goals while improving operations. The Fusion 3 collector is a fully automated system with high-efficiency filters that were specifically matched to the operation. The previous filters were prone to the "blind over" that is common when oily contaminants are present. The RoboVent filters spec'd for this application are pre-treated to resist the gummy smoke and fumes that result from oil and anti-splatter solutions used in most welding operations. Another important feature was RoboVent's SparkOut technology, an advanced spark arrestance system that helps Volvo to maintain a safe working environment.
Volvo cited two other reasons why RoboVent is their ventilation system of choice. First is the ePad touch screen control panel that electronically manages all the functions of the filtration and ventilation system. The ePad has eliminated manual operations. It monitors filter performance and tracks maintenance automatically. The second is the fact that the system is simple to use. Filter replacement is quick and very easy. With the successful installation of this RoboVent system for their MIG welding operations, Volvo Trucks is now planning for additional RoboVent systems to help them further improve air quality and energy savings.