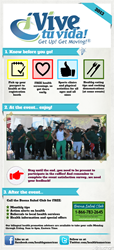 Albuquerque, NM (PRWEB) October 17, 2013
On Saturday, October 19, 2013, Youth Development Inc. (YDI) will present its seventh annual family health and fitness fair, ¡Vive tu vida! Get Up! Get Moving!®. This event promotes Hispanic family physical activity and good nutrition for better health and wellness for people of all ages and all sizes. The event, which is free and open to the public, will be held at 1710 Centro Familiar, SW, in Albuquerque, from 10:00 am to 2:00 pm.
"We believe in promoting wellness in our communities. Our ¡Vive tu vida! Get Up! Get Moving!® event emphasizes healthy eating, fun ways for families to exercise, and access to a whole host of health screenings and information. We invite one and all to come and enjoy a festive event for the entire family," said Chris Baca, President and CEO of YDI.
¡Vive tu vida! Get Up! Get Moving!® demonstrates the power of culture, family, and community to promote better health for all. The Albuquerque event will feature free flu shots and health screenings, including blood pressure and glucose. There will also be activities for the whole family including rock wall climbing; Zumba, hip hop, ballet, and belly dancing; CPR lessons; a composting demonstration; Kid Zones with face paining and jump rope; and, a 5K "Zombie" Walk/Run to benefit a local food bank. Participants will also have the chance to win raffles and giveaways, enjoy music, and much more.
"The support we receive from Newman's Own Foundation and the Healthy Americas Foundation allows us to serve 20,000 people at community family health events this year, like the one this weekend in Albuquerque," said Dr. Jane L. Delgado, President and CEO of the National Alliance for Hispanic Health, the nation's leading Hispanic health advocacy group, and author of The Latina Guide to Health and the Buena Salud® Guide book series.
"We are proud to support the National Alliance for Hispanic Health in providing community-based health and nutrition outreach," said Robert Forrester, president of Newman's Own Foundation. "One of the Foundation's priorities is the support of nonprofits whose focus is on nutrition, and ¡Vive tu vida! Get Up! Get Moving!® works to address a broad range of needs on the local level."
All participants of ¡Vive tu vida! Get Up! Get Moving!® Albuquerque will be eligible to register for the National Alliance for Hispanic Health's Buena Salud® Club. This free membership club is designed to promote healthy lifestyles by providing year-round reliable and confidential health information and provider referrals.
###
About Youth Development, Inc. (YDI)
YDI, founded in 1971, is a nationally recognized youth service organization that provides educational, developmental and humanitarian assistance to children, youth and families in central and northern New Mexico. Their mission is to work with the community to create and effectively implement a results-based continuum of services assuring that children, youth, and families achieve their full potential. YDI's programs include tutoring, after-school activities, gang intervention, drop-out prevention, family counseling services, emergency teen shelter, youth sports, internships, scholarships, parenting skills, leadership development, public housing assistance, community corrections, GED studies, early childhood education via Head Start centers, substance abuse and AIDS education, and many others. For more information on YDI and its programs, please visit http://ydinm.org.
About the National Alliance for Hispanic Health
The Alliance is the nation's foremost science-based source of information and trusted advocate for the health of Hispanics in the United States. The Alliance represents thousands of Hispanic health providers across the nation providing services to more than 15 million each year, making a daily difference in the lives of Hispanic communities and families. For more information, visit http://www.hispanichealth.org or call the Alliance's Su Familia National Hispanic Family Health Helpline at 1-866-783-2645.
About ¡Vive tu vida! Get Up! Get Moving!®
In its seventh year, ¡Vive tu vida! Get Up! Get Moving!® is the premier national family physical activity and healthy lifestyle event series in the nation. These family-oriented events are organized by leading Hispanic community-based organizations and are tailored to the interests and cultures of each community. In 2013, ¡Vive tu vida! Get Up! Get Moving!® events are being held in Albuquerque, NM; Chicago, IL; Dallas, TX; Houston, TX; Kennett Square, PA; Los Angeles, CA; New York, NY; Phoenix, AZ; Brownsville, TX; and, San Diego, CA. The National Alliance for Hispanic Health and the Healthy Americas Foundation present the series, along with its national supporter, Newman's Own Foundation, national media partner, Univision Communication's Salud es vida, and national partners, the Embassy of Mexico, and the United States Tennis Association. For more information call 1-866-783-2645, and visit http://www.getupgetmoving.org or the event's Facebook page at http://www.facebook.com/healthyamericas/events.