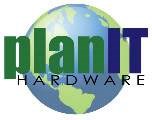 The new facilities will allow the company to hold its expanding inventory of hardware while providing ample office space and amenities for its growing team.
Atlanta, GA (PRWEB) October 19, 2013
planIT HARDWARE, an Atlanta IT hardware and used Cisco reseller, announced today that it will be changing offices, moving from its current West Midtown location to a new warehouse in Smyrna, beginning early November. The new facilities will allow the company to hold its expanding inventory of hardware while providing ample office space and amenities for its growing team.
With two new hires in the first half of the year, and at least another before the year's end, the company has been growing at a rapid rate. 2013, having brought two award wins--the Inc5000 and the local Atlanta Business Chronicle Pacesetter—will be a landmark year for the small company, with the move itself capping things off. Both awards honored the business for its success in being among the financially fastest-growing companies in not only Atlanta, but the nation as well.
"Relocations such as this help showcase the wonderful energy Cobb is creating around this target industry and cutting edge technology," said Brooks Mathis, Vice President of Economic Development and Executive Director of Cobb's Competitive EDGE for the Cobb Chamber. "The Cobb economic development team and Chamber of Commerce are thrilled to have planIT HARDWARE in our community."
"I'm most excited about the extra space and our ability to grow into it. We will no longer have a makeshift office comprised of two combined suites," says planIT Hardware CEO/Founder Paul Hogg. "I'm looking forward to a lot of things with regard to this shift: it will allow us to hire more people in 2014 and grow areas of our business that were briefly stunted when we maxed out the capacity of our existing space; we'll have a big new testing lab; our new space is in a great location, in a beautiful office park, right outside of I-285. Smyrna has been a growing city for commercial enterprise for quite some time now, and moving in to Cobb County and out of Atlanta also brings some tax advantages along with it for companies like us. The 18,000 square foot space is going to give us room to grow our sales force and marketing team while also providing the necessary room we need in the warehouse to expand our IT Asset Recovery and Inventory Audit Division."
planIT HARDWARE's new offices will be located in the Highlands Park area of Smyrna, a cross-industry business park with several other neighboring warehouses. The warehouse itself will be an upgrade for the company, expanding from its current 120x30x15ft storage space to a wider one measuring 130x80x25ft, in addition to several more offices and an overall increase in floor space. Ryan Sanders will be in charge of warehouse operations, with Senior Account Executives Ryan Cawood and Julie Knisley and eCommerce Sales Director Brian Maloney overseeing client/vendor and end-user sales.
About planIT HARDWARE:
Based out of Atlanta, Georgia and founded in 2009, planIT HARDWARE is a leader in the new and refurbished network hardware resale industry, and is one of the most prosperous young businesses in the nation, according to Inc. Magazine. The company works with fellow IT hardware brokers and vendors as well as end-users to offer equipment at significantly discounted prices. Equipment, both current and end-of-life (EOL), is stocked and sold in a variety of conditions, including new-in-box (NIB), new-open-box (NOB) and refurbished.