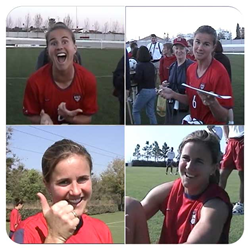 I got to show my grandmother some old videos of my father and my mom and cousins together...It's truly such a gift for me to have them accessible again.
Santa Clara, CA (PRWEB) October 17, 2013
90 Million American families have old videos in various formats collecting dust in closets – and celebrities are no different. YesVideo is helping Olympic and World Cup soccer star Brandi Chastain preserve and share some of the most amazing moments of her life – from school plays and Santa's lap to training with the USA Olympic soccer team and teaching her son how to swim. Brandi is sharing select video segments with the public in an effort to show how valuable it is to digitize old home movies before they become damaged or lost.
Over the years, Brandi has accumulated a hefty collection of videotapes, Hi8 tapes and photos that chronicle her illustrious career as a soccer player, non-profit founder, author, and mom. She first learned of YesVideo when she decided to transfer some of her pro soccer videos to DVD to bring along on a goodwill ambassador trip to Brazil with the U.S. State Department and U.S. Soccer. She wanted to demonstrate how important it is for young girls to be active and participate in organized sports like soccer, and thought video would be a great way to make her point.
A resident of San Jose, Brandi decided to visit the YesVideo headquarters personally in Santa Clara to ask questions about her video transfer process. After her tour of the facility, she said, "I am in awe of how incredibly secure and safe everything is, and how delicately they treat every single piece of media."
Thanks to YesVideo, Brandi got to re-live the USA–Brazil soccer games, Olympic soccer, and footage of the women's soccer team training. But she also got to bring back some great personal moments and share them with her family, like line dancing as a child in the 70s, sitting on Santa's lap in second grade, fishing, and running track in middle school. Her video transfer happened just in time for a family reunion, where Brandi says, "I got to show my grandmother some old videos of my father and my mom and cousins together - some really funny things."
Brandi sees the YesVideo experience as a gift she has given not only to her family, friend and fans, but also to herself: "Both of my parents passed away fairly young, so photos and videos got lost in the shuffle. It's truly such a gift for me to have them accessible again. If you haven't tried it, feel comfortable in knowing your memories will be safe and secure, and that you'll truly enjoy having access to them on a regular basis."
As the nation's #1 memory factory, YesVideo is the most trusted provider of home video digitization; Brandi joins 7 million American families who have already used YesVideo to preserve their favorite memories. Retailers like Target, Walmart, Sam's Club, CVS, Rite-Aid, and Costco all offer the YesVideo service to their customers.
"Brandi is an icon for our generation – amazingly accomplished in her career, giving back to the world through her nonprofit work, all while dedicating time to her family. She knows first-hand how hectic life can be, and we're happy that we were able to take one thing off of her checklist: preserving her video memories for her family, friends, teammates, and fans," says Michael Chang, CEO of YesVideo. "Brandi is helping us get the word out that it's easy to preserve your precious memories with YesVideo, and absolutely priceless to have them safe and accessible."
Brandi is the first celebrity to be announced in YesVideo's 'Remember When' program, which lets Americans view never-before-seen video footage of favorite celebrities and icons before they were famous - with soccer star Brandi Chastain as the first spokesperson. The 'Remember When' program was designed to illustrate the ease and value of transferring vintage video online where it can be shared and enjoyed, rather than trapped in an attic or closet.
YesVideo is offering one free video transfer per person to celebrate the launch of the 'Remember When' series.
How the YesVideo experience works:
1. Bring your old media to a local participating retailer like Target, Walmart, Sam's Club, or Costco; or, send your media directly to YesVideo. YesVideo accepts film reels (8mm, 16mm), VHS, Beta, slides, photographs, negatives, SD cards. For silent movies, you may select from a variety of musical backgrounds.
2. Orders are processed in less than 3 weeks in the United States, at either the YesVideo headquarters in Santa Clara, CA, or the company's Georgia location.
3. You will receive a DVD of your movies, and if you have opted in to have your memories stored online, you can watch them on your computer, connected TV, smartphone, or tablet.
4. Make some popcorn and enjoy your videos with family and friends!
To check out some of Brandi's favorite memories, and receive a code for one free video transfer, please visit:
http://www.yesvideo.com/brandichastain,
About YesVideo:
YesVideo > Brings Back Memories.
Stop and picture your favorite family memories. Relive them in your mind…the most special moments of life, experienced with the ones you love…. weddings, graduations, birthdays….
But those memories are often being held hostage, with old VHS tapes and film reels collecting dust in closets, attics, basements and garages.
YesVideo can bring back those memories. We turn old family tapes and films into online videos that you can watch and enjoy over and over again on your computer, connected TV, smartphone, or tablet. And, you can also share them by email or on Facebook.
7 million customers have already trusted YesVideo with their favorite video memories. Retailers including Target, Walmart, Sam's Club, and Costco rely on YesVideo to handle all of their video transfer needs. And once we put your video memories online, they are safe & secure, for good; we will store your videos online for you, for free, forever.
About Brandi Chastain:
Brandi Chastain has played for the San Jose CyberRays of the WUSA and FC Gold Pride of Women's Professional Soccer. Chastain has won two Women's World Cup championships, two Olympic gold medals, and an Olympic silver medal. She has written a book about women's competitive sports titled It's Not About the Bra. She led her team to a win against China in the 1999 FIFA Women's World Cup final and appeared on the covers of Sports Illustrated, Newsweek and Time.
Brandi lives in San Jose with her husband and has a 7-year-old son and a stepson. She is the co-founder of nonprofit organizations Bay Area Women's Sports Initiative and Reach Up World.