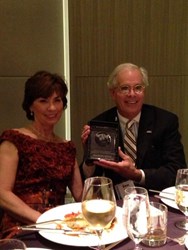 Not that I can give advice to a group with this much expertise, but if I could leave you with my two of my best practices for success, they would be: 1. Be Passionate! and2. Surround yourself with support.
Toronto, ON (PRWEB) October 19, 2013
Summer Classics President and CEO, William Bew White, III recently received the Allan J. McDonald International Entrepreneur Award for 2013. The award was presented to White by the Society of International Business Fellows (SIBF) at a ceremony on October 5th in Toronto, Ontario. Created by the SIBF Class of 1987, this award serves to commemorate Allan J. McDonald, who both supported the organization and made major accomplishments in the field of international entrepreneurship.
An organization for global business leaders, SIBF both educates and connects those who are involved in the international business world. Additionally, SIBF provides networking and mentoring opportunities to its members, who are active in business in more than 60 countries. Membership in SIBF covers all of the main sectors of business as well as the non-profit, government, and education sectors.
SIBF Executive Director Nancy Haselden shared more on the award, "The Allan J. McDonald Entrepreneur Award recognizes an SIBF member who demonstrates outstanding entrepreneurial effort. Bew has been a serial entrepreneur and industry innovator for 35 years, and his company's growth in international markets uniquely qualifies him as this year's award winner."
The impressive list of previous winners includes global business executives such as Billy Harbert, president/CEO of a construction firm that builds embassies and consulate compounds in cities worldwide— Dubai, Karachi, London and Helsinki, to name but a few; Mark Davis, chairman and Marty Davis, president/CEO, representing two generations of one of North America's largest dairy businesses, boasting a 50-year Kraft Foods partnership; and Tom O'Hanlan, a CEO and inventor who developed a communication adapter used in locating the Titanic and repairing the Hubble Space Telescope.
When asked to comment on receiving the Allan J. McDonald International Entrepreneur Award, White stated, "I am truly honored by this award, particularly from this incredible international organization. Not that I can give advice to a group with this much expertise, but if I could leave you with my two of my best practices for success, they would be:
1. Be Passionate! I am extremely passionate about what I do.
2. Surround yourself with support. You need at least one person that stands by you no matter what. And while I have several of those inside the company, I have one that's lived with me for 41 years, my wife Wendy. And she has definitely stood by me through thick and thin, no mater what!" Presented annually at the SIBF Summit, winners of this award are chosen for outstanding efforts in international entrepreneurship during the past year.
Bew White has been in the indoor and outdoor furniture business for over 30 years. Over that period, he was a sales rep and from there he has started and helped operate four separate companies that have all been successful. Including Summer Classics, Summer Classics Contract, Parker James, and Gabby. Summer Classics has grown to be one of the largest companies in its genre.
Started almost 35 years ago, the company has built an international business doing business first in Chile, then Mexico, China, Indonesia, and Vietnam. He has recently opened a division in Asia for his product selling in China, Japan, India, Australia, Hong Kong, and Singapore. He started a contract division that sells over 1500 clients in the hospitality, hotel, restaurant, and assisted living business. He started a container direct company that has sold to such clients as Neiman Marcus, Orvis, Restoration Hardware, and William Sonoma. He started an indoor furniture company in 2009 in the midst of the great recession and now sells over 1000 clients. The company also has 7 company owned stores and three licensees.
Summer Classics
P.O. Box 390
7000 Highway 25
Montevallo, Alabama 35115
(205) 987-3100
rob(at)summerclassics(dot)com