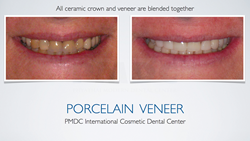 (PRWEB) October 24, 2013
The PMDC has been in existence for more than 20 years and has gained a positive reputation internationally for the quality of its services. Its new 'SMILE TEST' is a breakthrough in the field as patients can now self-analyze their smile once they have left the dental surgery.
The Phyathai Modern Dental Center (PMDC) is delighted to announce that it is offering its new application known as the 'SMILE TEST' which allows patients to analyze their smile without the need to constantly travel to see a cosmetic dental surgeon. This is ideal for international patients that visit PMDC in its Bangkok location. Now, it is possible for a patient to enjoy any one of the numerous high quality treatments at the centre and analyze how their teeth have responded to the cosmetic dental treatments they have received.
It is also possible to receive innovative Cosmetic Treatment Planning service for patients looking for a beautiful smile at an affordable rate. PMDC uses hi-tech equipment and techniques such as Still and Clip Digital Images, Digital Panoramic X-ray and Stone Model to thoroughly analyze the smile of each patient before starting treatment. It is a dental service with over 22 years of experience and it offers a full range of cosmetic dental treatments including one-visit bleaching, cosmetic gum surgery, cosmetic implants and ceramic crowns.
Dr. Boonyarit Karnjanaves established the PMDC in 1989 and it quickly came to prominence. In 1993, it was the first company in Thailand to import bleaching products and has been the nation's main centre of bleaching technology since that date. It also has the honor of being known as the first real cosmetic dental center in Thailand and now the PMDC has developed to the point where it is hailed as a leading international center in the field of cosmetic dentistry. This eventually led to the rebranding of the company in 2013 and it is now known as the PMDC International Cosmetic Dental Center.
Patients interested in benefitting from this high level of cosmetic dentistry will be delighted to know that the PMDC is located in the heart of Bangkok and is easily accessible via the BTS Skytrain, Airport Link or even via Taxi. Patients seeking premium level cosmetic dentistry such as porcelain veneers, crown, bridge or implant treatment should also know that the cost is a fraction of what is charged in nations such as the US, Australia and UK despite the fact that surgeons in Thailand, and in the PMDC in particular, are deemed to be world class.
So if you are looking for dental clinic in Bangkok, please visit http://www.pmdc-dental.com.