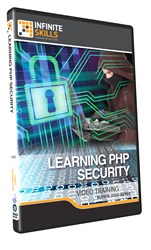 Learn PHP Security and how to protect your website from vulnerabilities at your own pace.
(PRWEB) October 18, 2013
Software training firm Infinite Skills Inc. this week released its "PHP Security Tutorial," an intensive course teaching the primary security considerations that can affect a PHP website and how to detect and prevent these intrusions from occurring.
PHP is a server-side scripting language designed for web development that is currently installed on more than 244 million websites and 2.1 million web servers.
Infinite Skills' PHP Security Tutorial is designed for website developers working with sites containing sensitive material including financial information. The course explains the basic parameters and issues of securing a PHP website and provides detailed instruction on how to protect sites against several common forms of hacker intrusion.
PHP Security Tutorial Video - Streaming
Course author Doug Bierer is a multi-talented computer programmer with extensive experience in databases, software development, as well as consulting and training. His specialization is with the Zend framework as well as programming with PHP, Pearl, jQuery, and Java. Bierer is a Zend Certified Engineer in PHP 5.1 and 5.3 and a master certified Novell instructor. He has several technical publications to his credit and currently runs two informational technology websites.
Bierer begins by defining the nature and scope of the the problem of security in PHP websites, exploring basic questions like identifying threats, understanding the consequences of attacks, and understanding the most common forms of attacks. The opening chapter includes a lab in which users are actually taught how to execute these attacks in order to understand how to prevent them.
The course then moves into preventative measures, exploring filtering, validation, and output escaping functions, with a lab concentrating on how to filter and validate posted form data for the example website.
Following chapters explore how to prevent the most common forms of attack, looking at cross-site scripting attacks, session hijacking and forgery, and remote code injection; and how to protect websites against common vulnerabilities like unplanned information disclosure, predictable resource location, and insufficient authorization measures, among others.
The course closes with a special look at SQL injection attacks, explaining how to project a MySQL database using escaping and quoting techniques in MySQL along with how to use prepared statements.
Free demo videos and a full list of course contents can be found on the PHP Security training page of the InfiniteSkills website:
http://www.infiniteskills.com/training/php-security.html
InfiniteSkills offers its PHP Security Tutorial either as a DVD or a direct download from the company website at a retail price of $49.95. Though the compatibility of programs varies, all InfiniteSkills titles and formats are compatible with both Mac and Windows operating systems, and shipping is available around the globe. Additionally, InfiniteSkills tutorials are supported by project files which correspond to examples in the videos.
About Infinite Skills Inc.
A leader in the field of software training, Infinite Skills designs its courses on a task-oriented model, teaching complex skills by providing hands-on examples and guiding users as they carry out essential functions. Infinite Skills offers a wide range of software titles available as DVDs, digital downloads, and in iPad editions. Infinite Skills now offers a subscription service, providing access to all of its training content for a monthly fee, keeping with the company's aim of delivering professional training to customers anywhere they want to learn.