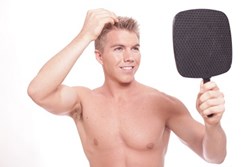 '...today there is not a single patient that we can't find a solution for.' - Parsa Mohebi, MD
Los Angeles, CA (PRWEB) October 24, 2013
Doctor Parsa Mohebi, medical director of US Hair Restoration, is teaming up with the experts of HRC, a prominent name in the hair replacement industry, to present a combination of a hair transplant procedure and hair system. This procedure will allow people with advanced stages of baldness to achieve a full head of hair. Doctor Mohebi talked about why he introduced this innovative approach to U.S. Hair Restoration, "We have been offering hair restoration to our patients in our Southern California centers for several years. Although we offer life transforming procedures to our patients, we occasionally have patients that don't have enough donor hair to get a full head of hair through a hair transplant. We recommend these patients get a hair system."
In most cases, patients who have never had a hair transplant before have enough donor hair available to cover their entire head, but certain patients with higher stages of hair loss, classes VI and VII, according to the Norwood Scale, may not have adequate donor hair. These individuals with advanced male or female patterned hair loss that have fine or sparse hair in their donor areas can benefit from having a transplant which densely packs a smaller surface area of the scalp to create a solid hair line. The remaining areas of the scalp which are not covered can be restored by the use of a hair system. The hair system is made from actual human hair that is matched precisely to the patient's existing hair. It is attached to the scalp using medical adhesives behind the hairline. The combined procedure of hair transplant surgery and hair system will produce a completely natural and undetectable full head of hair.
Hair replacement has significantly advanced by becoming undetectable from a natural looking head of hair by providing enough coverage on the top and crown of the patient's head. Although the hair system provides full coverage, many patients have a problem with the visibility of the hair line and they will benefit most from the combined method of hair transplant and hair system.
While the transplanted hairline is permanent, the hair system needs periodic maintenance after its initial placement. Despite having a hair system on, the patients can still enjoy recreational activities such as swimming, outdoor activities, and sports.
Doctor Mohebi went on to say, "I am excited to offer these innovative combined methods because today there is not a single patient that we can't find a solution for. Baldness is becoming optional with the combination of these two methods and now we can restore any stages of hair loss, with any quality of hair."
About US Hair Restoration:
US Hair Restoration was established in 2008 by the reputable Dr. Parsa Mohebi. As chairman of FUE Research committee and creator of the several methods and techniques in modern hair restoration, Dr. Mohebi and his staff provide the most advanced techniques in hair restoration. The overall goal at US Hair Restoration is to restore patient's self-esteem through the use of quality hair restorations.