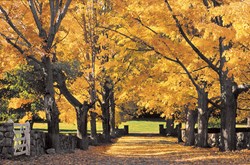 Enjoy this season's beautiful color while you still have time by visiting a Trustees reservation near you or around the state.
Sharon, MA (PRWEB) October 18, 2013
Fall foliage season draws visitors and locals alike to New England's most spectacular natural settings – including Trustees properties throughout Massachusetts. While we still have some brilliant color, grab a friend or your family, pack a picnic and head out to some of these delightful leaf-peeping destinations below, all free and open to the public from sunrise to sunset. Many more can be found at http://www.thetrustees.org.
Bird Park, Walpole
The park's fields, wooded hillsides, and water courses explode in color. Beeches lining the allee at the Polley Lane entrance glow orange-red, while massive oaks and catalpa trees rise above the playground in clouds of yellow and orange.
Appleton Farms and Grass Rides, Hamilton and Ipswich
Explore the farmstead and surrounding fields and woodlands of this 375-year-old working farm filled with magnificent color. Five miles of trails originally designed for horse-and-carriage lead through the Grass Rides.
Weir Hill, North Andover
Ascend the Stevens Trail to a scenic overlook offering panoramic views across a colorful carpet of Merrimack Valley woodlands. On a clear day, you can see as far as New Hampshire's Mount Monadnock.
Turkey Hill, Hingham & Cohasset
The hilltop's broad field offers vistas of South Shore woodlands and Massachusetts Bay. Enjoy the field's fading goldenrod, the reds and oranges of maple and oak in the middle distance, and beyond, the blue ocean.
Rock House Reservation, West Brookfield
Carter Pond becomes a kaleidoscope when the trees lining its shores reflect their seasonal colors in its surface. Located only a short walk from the parking lot, this is an ideal family destination.
Bryant Homestead, Cummington
The iconic estate boasts 150-foot evergreens, yellow-leaved birches, and a glen of old-growth trees. But the Homestead's hallmark is its entrance allee of sugar maples blazing a brilliant red in the fall.
Bear Swamp, Ashfield
Follow the trail from the parking lot a few hundred yards to a serene Beaver pond, surrounded by maple, birch and other tree species showing off their colors. From the Apple Valley Overlook, enjoy a rainbow canopy of forest and to the north, the impressive Green Mountains of Vermont.
Bartholomew's Cobble, Sheffield
Boasting more forest types than anywhere else in Berkshire County, "Bart's" foliage show is memorable. Climb the Tulip Tree trail to the top of Hurlburt's Hill, settle onto a bench, and take in the Housatonic Valley vistas.
Peaked Mountain, Monson
Explore roads through a former working forest and trek to a summit that rewards with panoramic views from Mount Wachusett to Vermont's Green Mountains.
The Trustees of Reservations (The Trustees) "hold in trust" and care for properties, or "reservations," of scenic, cultural, and natural significance for the general public to enjoy. Founded by open space visionary Charles Eliot in 1891, The Trustees are the nation's oldest, statewide land trust and one of Massachusetts' largest conservation organizations. Supported by more than 100,000 members and donors and thousands of volunteers, The Trustees own and manage 111 spectacular reservations, over 20 of which are located on Boston's North Shore -- including working farms, historic homesteads and gardens, community parks, barrier beaches and mountain vistas -- located on more than 26,000 acres throughout the Commonwealth. In addition, The Trustees work closely with community partners and permanent affiliates including Boston Natural Areas Network and the Hilltown Land Trust to preserve and protect special places for current and future generations. The Trustees are an established leader in the conservation and preservation movement and model for other land trusts nationally and internationally. The organization offers hundreds of outreach programs, workshops, and events annually, designed to engage all ages in their mission. To find out more, please visit: http://www.thetrustees.org.
###