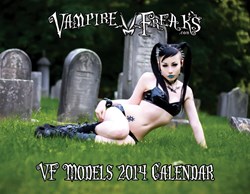 Brooklyn, New York (PRWEB) October 18, 2013
With one of the largest catalogs of Goth and alternative models, Vampirefreaks is proud to introduce a select group of Goth girls in it's 2014 Lingerie Calender. Taken in locations that would make any darkly oriented aesthetic individual comfortable, the calender features the following models;
MidnightSkye (January)
TracyWayneGacy (February)
Necrinity (March)
ChloeVonCreepy (April)
Schok_p0p (May)
Noizmare (June)
CountessHavok (July)
GigiRose (August)
NikkiNevermore (September)
Porphyria (October + Front Cover)
Zzy (November)
Candylust (December)
This 12-month full-size wall calendar with a different VF model for each month, also includes 2 bonus pages featuring group shots of the VF models, taken at recent Triton Festival.
Part of our effort within the greater social system, is to reflect Goth girls in a sophisticated, elegant light to wash-away many of the stereotypes that have risen over the years about the Goth culture. While it isn't recommended for children, it is tastefully photographed by Candylust.org, one of the premier alternative photographers in the Northeast.
About Vampirefreaks.com: VF was founded over 13 years ago by software engineer and computer programmer Jet Berelson. Jet wanted to create a safe place for Goth's of all kinds to interact with each other without being judged. With over 12,500 musician and bands profiles, along with a focus on dark art / illustration, fashion and related lifestyle items,Vampirefreaks has become the largest and most influential online alternative community. Members and fans have numbered over 7.3 million since inception and this large community continues to demand live events, support for Goth issues and content as well as a population of with like interests to interact within.