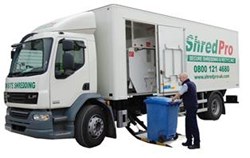 Shred Pro is giving 10% discount for October and November!
(PRWEB UK) 29 October 2013
Shred Pro is a leading UK Paper Shredding Services Provider based in the Midlands.
The company is passionate about providing a personal shredding service from start to finish for companies and individuals looking for onsite shredding services.
New shredding truck allows us to cover larger areas
Managing Director Darren Brown quotes; "This is fantastic news as it means that we are able to widen our customer base and offer more frequent shredding to our current customers".
The trucks use the latest cross cut blades to leave paper shredded to small pieces; once jumbled this leaves sensitive documents near impossible to piece back together. This will ensure as a business you are compliant to the FSA and abide to the DPA laws.
The shredding trucks used are environmentally friendly, therefore, also minimising your carbon footprint. With the latest improvements to the vehicles, there have been many changes which has resulted in lower fuel consumption and emissions when both driving the vehicle and operating the shredding machine itself.
Being a mobile shredding company, Shred Pro are able to offer several shredding services including regular shredding and one off shredding.
For more information about our shredding, please contact us today.