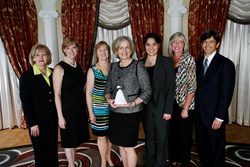 Learning at Nemours is the cornerstone of our culture. - David J. Bailey, MD, MBA, Chief Executive Officer, Nemours
Wilmington, DE (PRWEB) October 21, 2013
Nemours ranked 4th in the prestigious American Society for Training & Development's 2013 BEST Awards program for outstanding practice in education. The ASTD BEST Awards are the training industry's most rigorous and coveted recognition and recognize organizations demonstrating enterprise-wide success through employee learning and development. Nemours is among 28 organizations from five countries receiving a BEST Award in 2013. The Awards were presented during a ceremony held in Washington, D.C. on October 1, 2013.
Key Facts

Nemours was recognized for using an integrated learning model to effectively on-board and train more than 700 new Associates at the Nemours Children's Hospital in Orlando, and for the consistency with which the organization provides ongoing education and development, including the use of simulation in medical education and training.
Nemours competed against 70 organizations in nine countries for the 2013 BEST Awards.
Every organization submitted quantitative and qualitative information to ASTD about their learning and development practices and programs.
Applications were assessed in a blind review by members of the BEST Awards advisory committee, a select group of experts in the learning and development field.
This is the third time Nemours has received this award.
Quotes
"Learning at Nemours is the cornerstone of our culture. As a leading provider of medical care for children, we have a responsibility to develop our Associates and share our knowledge with the next generation of pediatric specialists."
-- David J. Bailey, MD, MBA, President & Chief Executive Officer, Nemours
"These 28 companies excel in creating innovative, vibrant learning cultures that clearly align with strategic business goals. They get it. The leadership of these organizations values the impact learning and development achieves, and knows that having a knowledgeable and skilled workforce drives success. "
-- Tony Bingham, President and CEO, ASTD
About Nemours
Nemours (NAH-mors) is an internationally recognized children's health system that owns and operates the Alfred I. duPont Hospital for Children in Wilmington, Delaware and the Nemours Children's Hospital in Orlando, Florida along with major pediatric specialty clinics in Delaware, Florida, Pennsylvania and New Jersey.
Established as The Nemours Foundation through the legacy and philanthropy of Alfred I. du Pont, Nemours offers pediatric clinical care, research, education, advocacy and prevention programs to all families in the communities it serves. For more information, visit http://www.Nemours.org.
About ASTD
ASTD (American Society for Training & Development) is the world's largest professional association dedicated to the training and development field. In more than 100 countries, ASTD's members work in organizations of all sizes, in the private and public sectors, as independent consultants, and as suppliers. Members connect locally in 120 U.S. chapters and with 15 international partners. ASTD started in 1943 and in recent years has widened the profession's focus to align learning and performance to organizational results, and is a sought-after voice on critical public policy issues. For more information, visit http://www.astd.org.