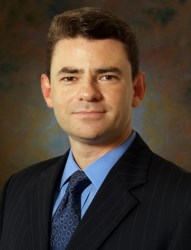 Jupiter, FL (PRWEB) October 21, 2013
G4S, the leading global security and outsourcing group, announces that Martin Alvarez joined the G4S Americas Region as Regional President, Latin America and Caribbean on October 1, 2013. In this role, Mr. Alvarez is leading more than 75,000 employees across 25 countries. The projected revenues for the region are more than $1 billion for 2013.
Mr. Alvarez joins G4S from Dell, where his most recent role was Executive Director of Multi-Country Latin America (MCLA), 38 countries that include Latin America and Caribbean (except Brazil and Mexico). He served as General Manager for Dell's largest customer contact center in Latin America, supporting both customers and internal operations for all of Americas. He joined Dell in 2006 as Director of Sales and, having consistently surpassed revenue and margin targets, was promoted several times through the operational chain, ultimately becoming responsible for more than 3,000 employees and more than $1 billion in revenue.
Prior to joining Dell, Mr. Alvarez worked for DHL for 10 years, living in six countries and holding various general management and commercial leadership roles, most recently as Vice President for DHL in Mexico. Before joining DHL, Mr. Alvarez worked for American Express in Mexico and for AIESEC United States, a non-profit multinational based in New York City.
Mr. Alvarez is a former Board member and former President of the American Chamber of Commerce in Panama (AMCHAM). He is also former President of the Board of Junior Achievement Panama and acting President of the Board for AIESEC Panama.
Mr. Alvarez has an MBA from IESE in Barcelona, Spain, and a Bachelor's degree (summa cum laude) in International Trade and Finance from Louisiana State University.
Mr. Alvarez has spent most of his professional life working in the Latin American Region. A Cuban American who was born in Guatemala, Mr. Alvarez has lived in 10 different countries. He is fluent in Spanish and a native English speaker. He currently resides in Panama with his Panamanian wife and Mexican-born daughter.
Commenting on the announcement, Grahame Gibson, G4S Regional CEO Americas, said:
"With his prior experience of outsourced business services and leading large workforces, along with his natural business development focus and deep understanding of the Latin American business environment and culture, Martin is an excellent fit for this position. I am delighted that he has decided to join G4S at a time when our opportunities in Latin America are greater than ever, and I am sure his energy, passion and drive will help us reach the next level of performance in this dynamic region."
About G4S
G4S, the leading global security and outsourcing group, specializes in outsourcing of business processes in sectors where security and safety risks are considered a strategic threat. G4S is the largest employer quoted on the London Stock Exchange and has a secondary stock exchange listing in Copenhagen. G4S has operations in more than 120 countries and over 620,000 employees. For more information on G4S, visit http://www.g4s.com.