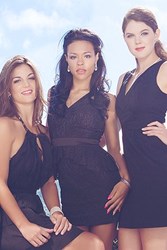 With VivaDressUp we've eliminated the tangible risk of producing a fundraising event. This is about just a dress, but one dress can change the world.
San Franciso, CA (PRWEB) October 24, 2013
Today, philanthropic fashion company VivaDressUp (http://www.Vivadressup.com) is announcing the launch of an e-commerce platform for social change. The site curates donated and consigned designer apparel and presents the inventory in themed, flash sales with the majority of the proceeds going to charity.
With an initial focus on dresses, VivaDressUp's platform changes the game for charitable fundraising by offering non-profits a new way to raise money through Dress Drives. Built to address common hurdles and roadblocks familiar to anyone who's tried to raise funds for a cause using traditional methods, VivaDressUp offers charitable groups tools to raise money without the hassle of organizing fundraising events. There are no upfront expenses and minimal volunteer efforts. That volunteer groups need not ask any donor for money makes it appealing for charitable organizations of all kinds, from high schools and sororities to performing arts auxiliaries. Each organizer receives a free kit including donor tax forms, tags, and a step-by-step guide upon signing up on the site.
"We wanted to solve the problem of how to raise money for a worthy cause in a crowded world of worthy charities. With VivaDressUp we've eliminated the tangible risk of producing a fundraising event. This is about just a dress, but one dress can change the world," said Layne Gray, Founder, VivaDressUp. "As women, we all have a dress in our closet we won't wear again. Well we believe THAT dress deserves another swing around the dance floor. Giving back is fashionable."
VivaDressUp allows anyone to donate or purchase gently used or unworn dresses and will soon expand to other apparel categories. Through VivaDressUp's Beta program, there are currently over 41 dress drives in process or planned by universities such as Cornell, publicly traded companies like Electronic Arts, sororities including Delta Gamma and Junior League chapters, to name a few. Between 30 and 150 dresses have been generated from each drive. Today's sale is themed "Haute Halloween Nights" and features dresses and apparel that can be accessorized for the holiday with prices ranging from $40 to $400.
Groups participating in dress drives receive 60% of all proceeds for the charity of their choice. Individuals who consign dresses on VivaDressUp receive 50% of the proceeds, while another 10% benefits non-profit partners Girl Up (http://www.girlup.org/) and buildOn (http://www.buildon.org/), chosen by VivaDressUp for their unique ability to help empower women by offering education and career skills to help them lead their best lives. Buyers can feel good knowing that a minimum of 10% of their purchase proceeds go directly to charity.
"VivaDressUp has created an easy, rewarding way for our buildOn chapters, which are in over 60 high schools and colleges, to support constructing schools in developing countries", said Tom Silverman, Global Chapter Manager, buildOn. "We are very pleased to be partnering with VivaDressUp and look forward to organizing dress drives across the country with as many chapters as we can."
In addition to the e-commerce site and dress drive platform, VivaDressUp is launching an online community that will contain news, tips from other dress drive participants, case studies, and photos.
Individual celebrity donations have also come in from Katy Perry, Kristen Bell and Colbie Caillat, among others. VivaDressUp partners and supporters include Procter & Gamble's feminine products division (including the Always and Tampax brands), Newell Rubbermaid's Goody brand, Sephora, EVA-NYC and designers Tracy Reese, and Elle MacPherson Intimates.