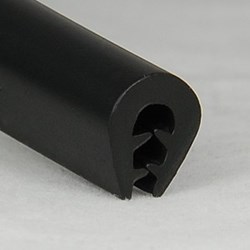 Elasto Proxy offers edge trim made of PVC, EPDM, and TPE with wire cores or steel segmented cores in various dimensions and duro.
Boisbriand, Quebec, Canada (PRWEB) October 22, 2013
Elasto Proxy, supplier of specialty sealing solutions, is announcing push-on edge trims for a wide range of indoor and outdoor applications. The bulb portion of these dual durometer trim seals is made of foam and can have an extended lip. The solid retainer section of the edge trim seals can be pressed into place over any flange or edge and provides reliable sealing against air, water, dust, and noise.
For over 20 years, Elasto Proxy has supplied custom seals to partners in industries such as automotive, construction, defense, electronics, food equipment, green power, mass transit, medical equipment, and mobile specialty vehicles. Today, the custom fabricator offers edge trim made of PVC, EPDM, and TPE with wire cores or steel segmented cores in various dimensions and duro.
PVC Edge Trim
PVC edge trims are often used in interior applications such as storage cabinets. A lightweight plastic with a closed-cell structure, polyvinyl chloride (PVC) withstands the absorption of water and will not swell like wood. PVC edge seals may crack at cold temperatures, however, and become discolored from prolonged exposure to sunlight.
EPDM Edge Seals
EPDM edge seals are used in outdoor applications because they can withstand temperature extremes, moisture, and ultraviolet (UV) light. A closed-cell sponge material, ethylene propylene diene monomer (EPDM) rubber also provides a relatively high degree of electrical insulation, making EPDM edge trims a good choice for electronics applications.
TPE Edge Trims
TPE edge trims are made of thermoplastic elastomers (TPE) or thermoplastic rubber (TPR), special materials with antimicrobrial and antifungal properties. Although TPEs have a higher material cost than other compounds, thermoplastic rubbers are cost-effective for small runs because they cure right away. TEP edge seals and TRP edge trim are used with medical equipment.
Wire Cores and Segmented Steel Cores
Elasto Proxy supplied edge trim with wire cores, strands of metal wire that help the seal to absorb impact. Steel wire is often used in outdoor applications because of its ability to withstand impact under cold temperature and cold weather conditions. Rubber edge trims with segmented steel cores may contain cold rolled steel that provides good elongation properties.
Edge Seal Dimensions and Density
Push-on edge trim is also specified according to dimensional measurements. Durometer, a measure of hardness, is expressed in duro. Often, edge trim is made of medium density materials. Because solid profiles are the hardest and most resistant to compression, sponge rubber profiles are often used instead because of their ability to absorb impact.
About Elasto Proxy
Elasto Proxy designs and custom fabricates specialty seals, thermal and acoustic insulation, EMI shielding, and other high-quality rubber and plastic parts for partners in a variety of industries. By listening to your requirements and analyzing your needs, our solutions providers can recommend sealing solutions that are right for your application. How can we help you?
Media Contact:
Megan Beaulieu
Executive Support Specialist
Elasto Proxy Inc.
4035 Lavoisier Street
Boisbriand, Quebec, Canada
J7H 1N1
mbeaulieu(at)elastoproxy(dot)com
For Immediate Release:
http://www.elastoproxy.com/
Ph: (450) 434-2744