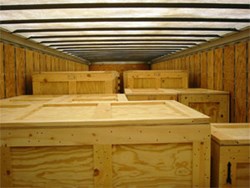 Nort Hollywood, CA (PRWEB) October 24, 2013
Acclaimed Movers & Storage is proud to add international packing and crating services to their extensive menu of options for moving customers. The premier moving company, famous for their all-encompassing relocation services for residential and commercial movers, brings over 10 years of packing and crating experience to this new service. Highly trained international packing and crating professionals use the best packing materials—industrial-strength packing tape, thick foam, hefty moving blankets and more—to completely secure items for international transport. For large, awkward or valuable items—antiques, artwork, electronic equipment, even pianos—receive custom-designed crating. Moreover, the firm has years of experience helping customers move overseas, which means the company possesses practical knowledge of international shipping regulations, documentation and customs. Shipping consultants will guide clients through every step of the transport of their items outside the United States.
These international packing and crating services are seen by the company as an extension of their highly regarded packing services. The packing process is remarkably thorough and packing employees undergo a rigorous training process to fully educate them in every aspect of safe, secure packaging. Loading and unloading is handled with great care, to make sure items are protected during transport. Large cargo containers can handle anything being moved overseas: household goods, business equipment, even vehicles and machinery. For moves within the United States, Acclaimed Movers operates a "green" fleet of moving trucks that are outfitted with GPS systems, low rolling resistance tires and even bio-diesel-fuel engines. The company relocates commercial and residential customers alike: one-bedroom apartments receive the same care and attention to detail as large estates, restaurants, retail spaces, medical clinics, and warehouses. A large, climate-controlled warehouse equipped with 24/7 video surveillance is available to address any storage needs. Whether the move is to a new neighborhood, new state or new country, the Acclaimed Movers team is on it.
Acclaimed Movers & Storage takes great pride in their team of employees who display above all the company's commitment to customer satisfaction. From the people who pack up the belongings to the licensed and insured moving van drivers to the moving consultants who work out the details, every staff member is courteous, professional and knowledgeable. They go the extra mile to make sure a client's move is a stress-free as possible. For easy, successful moves—anywhere around the world—contact Acclaimed Movers & Storage online or by phone.