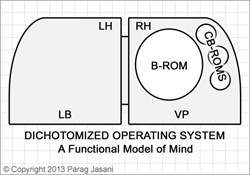 Connecting DOS model to your day-to-day life will change the way you think about yourself, others and life as a whole
Mumbai, India (PRWEB) October 23, 2013
With billions of neurons and trillions of connections, operations of human brain seem to be of highly complex nature. Dichotomized Operating System model (DOS model), a functional model of mind, reveals that operations of the brain are driven by many, but simple mechanisms and processes. It is their interactions with each other that result into complex behavior. The model explains how brain creates mind by explaining such simple mechanisms and processes, while solving thousands of years old mysteries like consciousness, free will, etc.
Based on Charles Darwin's theory of evolution, it can be used as a tool to analyze, explain and understand all functions of mind. It can also be used to resolve a range of problems spanning from day-to-day life phenomena to diagnosing and treating mental illnesses. It answers questions like What is mind? Why is it necessary? What are thoughts? What makes us capable of making our own decisions? How do we understand other people's minds? What is consciousness? How, when and why does consciousness emerge? How subconscious and unconscious thoughts influence our decisions? What are different kinds of thought processes & how do they work?, etc., while explaining mechanisms and processes of mind underlying thinking, sensation, perception, attention, awareness, hunger, pain, etc. It solves mysteries that baffle medical research even today, like causes of diverse symptoms seen in Autism Spectrum Disorder, Dissociative Identity Disorder, Phobia, etc.
It ties up all mind functions into a single, coherent framework, making it an essential counterpart to mind and brain studies not only to understand them better, but discover more by looking at them from the functional point of view.
The model, available on the website http://www.whatismind.com, is a result of five years of research by Parag Jasani, a college dropout from Mumbai, India, who initially began research in consciousness. When he realized that consciousness is dependent on multiple factors, and thus cannot be studied on a standalone basis, he decided to take the model building approach.
Besides solving biggest scientific and philosophical mysteries like consciousness, free will, self-hood, subjective experiences, etc., the model will eventually make it possible for the common man to understand day-to-day life phenomena that are usually taken for granted, like emotions, music, humor, love, sex, art, happiness, desire, sleep, dreams, etc., by explaining their underlying causal mechanisms and processes, making it, in the words of Parag Jasani, "one of the biggest discoveries in the history of mankind".
Talking about its simplicity, he says, "the mechanisms of DOS model are simple and do not require any prior knowledge to understand them. Once you understand them, you will be able to understand how conscious and unconscious thoughts and processes in your mind influence you, your decisions and your life. Connecting the knowledge gained from it to your day-to-day life will change the way you think about yourself, others and life as a whole".
Easy Approach:
In the current approach to understand mind and brain operations, observations are made, based on which how brain works is derived, giving an insight of how mind works. DOS model uses the reverse approach. It initially explains what mind is by explaining its components and then goes out to explain how various phenomena observed and subjectively felt emerge out of such components through many, but simple mechanisms and processes in the brain.
As compared to the current approach, which requires multidisciplinary studies from diverse and specialized fields, the straightforward approach offered by the DOS model makes it a breeze to understand mind, and thus, workings of the brain. The many, but simple mechanisms and processes driven by model's four basic components make it possible for mind to be explained using common sense logic without using any medical terminology, giving the common man a never before insight of the workings of his own mind.
# # #
About Parag Jasani:
A resident of Mumbai, India, he has been curious to know the nature and purpose of life from a very young age. His quest for the same has resulted into him developing Dichotomized Operating System model, the first comprehensive model of human mind. He has published the model online so others can get instant access to it, thereby giving them an insight of how their lives are driven by conscious and unconscious processes of their minds.
Although this website focuses on mind and brain, his primary focus of research is on everything that is connected to life.