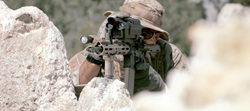 Real capabilities that are months, not years away.
Austin, TX (PRWEB) October 25, 2013
In October, TrackingPoint™ launched a detailed microsite about how the technology it was developing for its Smart Rifles™ would affect the future field of war. A one-minute live action video and accompanying site were picked up by a number of publications, and writers from sites as diverse as VICE and Military Times weighed in on the future of war and technology. The http://www.shotmade.com/futureofwar site and its content are part of an effort by TrackingPoint to show that they are not just smart-rifle makers, but thought leaders in the future of optics, firearms, and war. As Brian Anderson of VICE Motherboard writes, "It's simply not just about the gun. The idea is that meshing small-unit operations into the networked battlefield will translate, in TrackingPoint's words, into 'massive increases in baseline lethality and situational awareness with the least amount of training.'"
Jason Schauble, CEO of TrackingPoint, himself a former Marine Officer, stated:
"As TrackingPoint has disrupted traditional small arms and optics technologies with the smart rifle by combining target tracking, sensor arrays, and ballistic computation with integrated firing systems, we have also conceived of a new era of warfare over the next few decades. We believe our PGF technology, thanks to its internal sensors, computing power and communication architecture, can form the core platform for a networked battlefield." Dynamic, interactive operating pictures using a commercially-available tablet PC, inter- and intra-squad target handoffs, constant streams of near real-time critical data running between squad members, units, and command structures—these are no longer abstract concepts. They're real capabilities that are months, not years away."
Rob Curtis from Military Times' blog "Gearscout" wrote, "Before anyone goes off on the "batteries will fail" or "technology like this will never be reliable" rant path, just look at the vast amount of electronic gear our troops are already deploying with. Night vision, GPS, communications—these are all examples of electronics that were made to work on the battlefield. TrackingPoint will be no different. The issues this system faces are cost, night vision compatibility, and wind detection technology. If any two of those three issues are addressed, I can see TrackingPoint's tech, or that of its competitors, taking its place on the battlefield."
The Smart Rifle is a closed-loop system that mitigates key sources of shooter error to significantly increase accuracy. The main sub-components of the Smart Rifle are the Networked Tracking Scope, Guided Trigger, firearm, and ammunition. These four components are comprised of multiple integrated technologies. These technologies allow shooters to be more accurate, engage multiple targets at unknown ranges quickly, track and engage moving targets, and communicate via command-and-control networks. Current models of smart rifle in .300 Winchester Magnum and .338 Lapua Magnum are available for purchase via an application process at tracking-point.com.
Military Times - http://blogs.militarytimes.com/gearscout/2013/10/02/trackingpoint-going-tactical/
VICE Motherboard - http://motherboard.vice.com/blog/how-data-driven-soldiers-might-upend-the-future-of-war