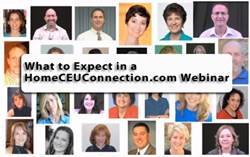 Imagine how much stress you eliminate when you don't have to complicate your life by traveling to costly and sometimes distant on site classes.
Plano, TX (PRWEB) October 24, 2013
With a continuing education deadline of November 30th rapidly approaching, thousands of physical therapists in Florida still find themselves in need of live courses to meet their biannual license renewal criteria. HomeCEUConnection.com has responded to this need by adding dozens more hours of online continuing education webinars, sessions accepted as live by the Florida board.
"Traditional live continuing education can carry a significant burden for therapist, both financial and time-wise," commiserates Anne Osborn, owner of HomeCEUConnection.com. "Our goal with these live webinars is to ease that burden as best we can. Imagine how much stress you eliminate when you don't have to complicate your life by traveling to costly and sometimes distant on site classes."
The November schedules feature dozens of hours of online interactive, sessions that satisfy the live continuing education for Florida PTs. Interactive online webinars offer therapists a convenient way to complete the entirety of their live requirements without the need to arrange attendance at onsite classes or conferences.
Courses come complete with question and answer sessions with the presenter, and lab style sections in select courses. They also offer the added convenience of an online exam system that awards instant results and certificates of completion with a passing percentage. Additionally, Florida therapists can expect to see their completed courses reported to CE Broker within one week of completion.
"Awesome!" declares Ashley Carter, a Florida Physical Therapy Assistant. "Love the money saved without compromise of education quality."
The November line up includes popular courses such as "Why do Patients Fall and What do I Do?" on Sunday, November 10th, "Joint Replacement Rehabilitation for the Shoulder, Hip and Knee" on Thursday, November 14th, "Treating Balance and Fall Prevention for the Geriatric Patient" on Sunday, November 24th and many more. Sessions run through to the end of the month to accommodate therapists who have left their CEs to the very last minute or whose deadlines are at the end of the year. The entire schedule can be found in the HomeCEUConnection.com catalog by searching for "webinars" approved for Florida physical therapists.
HomeCEUConnection.com interactive webinars satisfy the live requirements for physical therapists in Florida, Nebraska, Iowa, Virginia, and Oklahoma as well as the live requirements for occupational therapists in Florida, Iowa, Kansas, Nebraska, New Mexico and Tennessee. For specific approvals, please visit the HomeCEUConnection.com website.
HomeCEUConnection.com webinars are designed to deliver an enhanced learning experience, streaming premiere content directly to the busy therapist's computer or laptop. These live, interactive sessions include demonstrative videos, detailed illustrations and interactive question and answer periods with highly respected educators.
About HomeCEUConnection.com
HomeCEUConnection.com is a leader in providing quality online continuing education courses for Speech Language Pathologists, Physical Therapists, Physical Therapist Assistants, Occupational Therapists, Occupational Therapist Assistants, Athletic Trainers, Massage Therapists, and Certified Strength and Conditioning Specialists. We offer convenient, affordable and user-friendly courses that can be found in our growing course catalog.