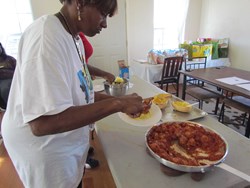 New Orleans, LA (PRWEB) November 09, 2013
New Orleans Area Habitat for Humanity (NOAHH) has partnered with Second Harvest Food Bank Greater New Orleans and Acadiana to host a six week cooking course for New Orleans Habitat Partner Families and AmeriCorps families called Cooking Matters for Adults between October 26 and December 7 at the NOAHH Model Home in the Upper Ninth Ward. Classes will be held on Saturdays from 1:30 p.m. to 3:30 p.m.
"This program challenges families to take health into their own hands, empowering them to learn and grow with others in their community," said Kate McDonald, Nutrition Education Coordinator with Second Harvest. "We believe that the missions of Habitat for Humanity and Cooking Matters are directly aligned in their multi-faceted approach to providing services in New Orleans."
The course will teach NOAHH partner families and AmeriCorps members how to cook delicious, healthy foods, save money on groceries, as well as how to read and understand nutrition labels. The course will provide students with groceries each week for the recipes taught, a cookbook and buying guide, a reusable grocery bag, a cutting board, a food thermometer, and a gift card to local grocery chain Rouses.
The multi-faceted approach NOAHH has embraced includes a program known as the New Orleans Habitat Urban Garden (HUG) Initiative. As part of NOAHH's commitment to fighting poverty housing in the New Orleans area, the New Orleans HUG Initiative is designed to improve neighborhoods by fighting blight, providing healthy food to locals, and beautifying otherwise empty lots.
"Hunger is a major issue, especially among lower-income families," said Jim Pate, executive director of NOAHH. "And part of the spectrum of issues that is exacerbated by poverty housing. Through our HUG Initiative and opportunities like the Cooking Matters program, we hope to alleviate the issue as part of our mission to help more people break the cycle of poverty."
The Cooking Matters program has served 11,000 families since its inception in 1993. About 85% of students in the program graduate. Cooking Matters is a program of Second Harvest Food Bank of Greater New Orleans and Acadiana in partnership with Share Our Strength, the leading national organization working to end childhood hunger in America.
NOAHH has 38 community garden lots across the city in partnership with 10 local organizations. These lots help supply fresh vegetables and fruit to their neighborhoods, serve to beautify otherwise empty lots, save NOAHH on maintenance fees, and contribute to the on-going community improvement NOAHH supports.
New Orleans Area Habitat for Humanity, an independent affiliate of Habitat for Humanity International, is a 501(c) 3 non-profit organization. NOAHH builds new houses in partnership with sponsors, volunteers, communities, and homeowner families to eliminate poverty housing in the New Orleans area while serving as a catalyst to make decent shelter a matter of conscience and action. Since its inception in 1983, NOAHH has built 704 homes for low-income families in need of adequate shelter. NOAHH plans to continue to build homes in Orleans, Jefferson, St. Bernard, St. Charles and Plaquemines Parishes. http://www.habitat-nola.org