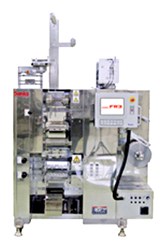 We were demonstrating the FR-3 at fill speeds of over 300 cycles per minute.
Marlton, NJ (PRWEB) October 24, 2013
Technical Help in Engineering and Marketing (T.H.E.M.), a leading provider of flexible packaging solutions, and the exclusive North American representative for Sanko packaging machinery, recently showcased the Sanko FR-3 Pouch Filler at Pack Expo 2013. "Our booth was mobbed from start to finish," commented an excited T.H.E.M. CEO and President, Neil Kozarsky. A wide range of food, beverage and personal care brand executives were literally lined up for a first-hand demonstration of the FR-3, the world's fastest pouch filling machine. The unit on display by T.H.E.M. did not disappoint. "We were demonstrating the FR-3 at fill speeds of over 300 cycles per minute," added Kozarsky.
With an estimated 1,500 installed units currently operational in Japan, the FR-3 is an established and central part of Sanko's packaging machinery portfolio. "It's fast, proven, efficient and highly versatile," commented Tom Martin, Vice President of New Business Development at T.H.E.M. "It's no surprise that North American CPGs want access to this technology right now."
T.H.E.M. reports a number of projects already moving forward using the FR-3 at the company's FDA-certified contract packaging facility in Marlton, NJ. They also confirmed that several Pack Expo attendees expressed immediate interest in purchasing both narrow web and multi-lane FR-3 units.
The FR-3 is capable of packaging a wide range of liquid products including condiments, soup concentrates and salad dressings, in addition to lotions and cosmetic products. The adaptable system can accommodate liquid filling for a broad range of consistencies, including gels and pastes. A proprietary ultrasonic sealing system allows sealing of products containing particulates. And the speed and efficiency of the FR-3 represent advantages not available from many of the traditional form-fill-seal machines in operation in the U.S. today.
Martin added, "Most pouch filling systems in North America are of the intermittent type, and their speed is limited. By contrast, the FR-3 is a continuous motion machine with rotary sealing dies. An additional benefit is its ability to eliminate air and headspace from the packet."
T.H.E.M.'s unique continuity-of-supply-chain approach offers complete flexibility and end-to-end support for customers interested in an FR-3 packaging program. Martin commented, "We have the ability to perform pilot runs on the FR-3, and then sell our customer the machine, or support scale-up production at our facility."
Kozarsky concluded, "We are extremely pleased with all the attention the FR-3 received at Pack Expo. The potential for this system to gain share in North America appears very apparent, sooner rather than later, and for a broad range of consumer product applications."
About the Sanko FR-3
The Sanko FR-3 is available in narrow web and multi-lane configurations, and can be set up for both three- and four-sided form-fill-seal packaging of liquids and pastes. Unlike conventional machines where the sealing pressure is determined on the basis of an operator's skill and experience, the FR-3 stores numerical packaging data for each product to be packaged. As the machine is adaptable for each different package, it can be operated directly by the numerical control system. Change of bag length, adjustment of the position of the I-notch, perforation, and cutoff can be made by simply tapping the 9.5" LCD touch panel display. Other adjustments can be made in a similar way, even while the machine is operating.
Standard features of the FR-3 include heat-resistant, lubrication-free bearings, non-backlash gears, an automatic film centering mechanism, and a rotary connector for the attachment of a heater. Among the machine's many available options are an automatic side wobble control system, liquid flow meter, definite quantity divider and definite quantity shutter.
About T.H.E.M.
Celebrating its 40th year in business, Technical Help in Engineering and Marketing (T.H.E.M.) was founded in 1973 as one of the first providers of innovative packaging solutions in North America. The company is best known for commercializing Sanko Stick Packaging in the United States. Working in conjunction with select packaging and equipment manufacturers, T.H.E.M. offers a comprehensive array of packaging solutions designed to take brands from initial concept to full-scale national or global production. T.H.E.M. has a fully operational, on-site R&D center located at its Marlton, New Jersey headquarters, with pilot production, scale-up, and full-scale contract packaging capabilities.
T.H.E.M. has substantially expanded its contract packaging operations over the past several years, in terms of both capacity and capabilities. Recently, the company has erected additional humidity-controlled packaging suites at its NJ-based facility. Liquid pouch and packette production includes three- and four-sided seal packaging for product capacities ranging from 1 to 70ml. As part of a turnkey solution, T.H.E.M. also manages raw material intake, secondary packaging operations, and pack out for distribution.
For more information on T.H.E.M.'s flexible packaging machinery and contract manufacturing services, please visit: http://www.them.net.
For more press information, please contact:
Ed Delia, President
Delia Associates
T: 908.534.9044
E: edelia(at)delianet(dot)com